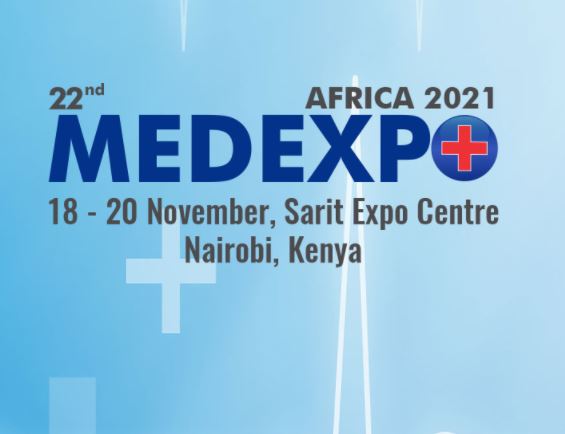 22nd MEDEXPO 2021 – Kenya
About MEDEXPO AFRICA 2021 Kenya
Strong exhibitor line-up from over 25 countries and a comprehensive medical product, equipment & machinery showcase at Kenya's biggest International Medical Trade Exhibition
The increasing demand for medical manufacturing products, equipment, machinery, services, and solutions has prompted a surge of representation at Africa's premier medical exhibition, MEDEXPO AFRICA – KENYA 2021. Taking place at The Sarit Expo Centre, Nairobi, Kenya, from 18 – 20 November 2021, the exhibition profiles innovative solutions from leading market players for the benefit of buyers from the medical technology industry, from across the East African region. Targeted buyers from across East Africa are seeking new products, equipment, machinery, services and solutions to keep abreast of industry trends and developments.
According to medical professionals in the region: "It will be the most important and relevant trade exhibition for industry professionals in the medical field to source for products, meet new business contacts, build partnerships, and keep abreast of industry trends and developments." Kenya is currently the largest producer of pharmaceutical products in the Common Market for Eastern and Southern Africa (COMESA) region, supplying about 50% of the regions' market. Out of the region's estimated 50 recognized pharmaceutical manufacturers; approximately 30 are based in Kenya.
Due to an aggressive campaign, the number of exhibitor registrations has risen by at least 20%, compared to last year. Visitor inquiries & registrations are very strong and a 25% increase in visitor flow has been forecasted for the event. MEDEXPO AFRICA – KENYA 2021 Due to an aggressive campaign, the number of exhibitor registrations has risen by at least 20%, compared to last year. Visitor inquiries & registrations are very strong and a 25% increase in visitor flow has been forecasted for the event.
Every year, MEDEXPO attracts a huge number of radical medical equipment manufacturing & distribution companies to showcase their medical technologies, products, and services. Both exhibitors & visitors receive personalized attention in the show, hence making the MEDEXPO Africa eminent!
Kenya Medical Equipment Market
The Kenyan medical equipment market relies almost entirely on imports. The total market demand in 2016 for imported equipment was $ 300.97 million. Major suppliers include China, Germany, India, Netherlands, and the United States.

The Ministry of Health (MoH) is the lead healthcare policy-setting government institution in Kenya. The Pharmacy and Poisons Board (PPB), an agency under the Ministry of medical services, regulates the registration of medical devices. Medical equipment public procurements are done by the Kenya Medical Supplies Agency (KEMSA), a state corporation and a specialized medical logistics provider for the MoH. Established in 2000, KEMSA works to support theNational Health Strategic Plan and the Kenya Health Package for Health in providing public health facilities with the "right quantity and quality of drugs and medical supplies at the best market value."

Over half of Kenya's healthcare services are provided by the public sector, through the MoH, other government organizations, and donor partners, including the United States. These services are supplemented by those offered in hospitals and clinics that are operated by private companies, NGOs, and various faith-based organizations such as the Kenyan Episcopal Conference, the Christian Health Association of Kenya, and the Kenyan Red Cross.

There are regional differences in the quality and distribution of care, with the best facilities located in Nairobi and the Central Province, and the most underdeveloped facilities in the North-Eastern Province and on some areas of the coast. Primary care facilities in rural areas often suffer from shortages of staff and medical equipment. Some patients choose not to seek care due to the distance that they would have to travel to reach the nearest health facility. Only 30% of the rural population has access to health facilities within 4km of their home, compared with 70% of the urban population.

However, some problems related to healthcare access have been addressed through the Managed Equipment Services project which was launched by the government in February 2015. The first phase of the project has resulted in two public hospitals in each of the 47 counties being fully equipped with state-of-the-art medical equipment. The Ksh38billion ($404.3million) project was fully financed by the MoH as the plan is part of the government's vision to transform the health sector and address inequalities in access to quality healthcare with the president's pledge as an "irrevocable commitment to deliver equal access to high-quality treatment to all Kenyans wherever they live, and regardless of their economic status".

Sub-Sector Best Prospects
Best prospects include CT scanners, ultrasound units, X-ray equipment, MRI equipment, angiography, endoscopy, biochemistry, hematology, and immunology systems, and radiotherapy machines.

Opportunities
U.S. medical equipment suppliers are in an excellent position to increase their market share in Kenya due to U.S. technical competitiveness. Kenyan users appreciate the quality and reliability of U.S. medical equipment although price is an issue. Leading private sector hospitals are very active in modernizing their medical equipment inventories, while public sector hospitals are expected to engage in a re-equipping strategy following improved budgetary allocations. At present, most public health institutions lack basic medical equipment. Recently issued government tenders for medical equipment indicated requirements for basic equipment such as anesthetic machines, anesthetic trolleys, hydraulic operating tables, delivery beds, infant incubators, mortuary trolleys, hydraulic operating tables, mercurial sphygmomanometers, and oxygen flow meters among others. Electro-medical devices (X-ray machines, ultrasound scanners, mammography units, and ECG machines) are also in demand.

Under the country's Vision 2030, the government is pursuing the nationwide rehabilitation of 53 hospitals and 210 community health centers with plans to establish at least one model health center in every constituency. The construction of these new facilities will increase the demand for medical devices.

At least Ksh 21 billion ($223.4 million) will be spent on medical equipment for the diagnosis and treatment of cancer, a disease that is killing at least 27,000 Kenyans annually. Cancer-related deaths have been exacerbated by the shortage of medical equipment used in the diagnosis and treatment of the disease. Patients have had to wait for up to two years to access the available equipment, which allows the disease to markedly progress and become terminal. A further Ksh 2.2 billion ($23.4 million) is to be spent on renal dialysis equipment, Ksh 3.3 billion ($35.1 million) on ICU equipment, Ksh 12 billion ($127.7 million) on theatre equipment and Ksh 2.7 billion ($28.7million) on laboratory equipment. Nine centers of excellence manned by specialists will be set up as there are very few oncologists in Kenya. The internet interface on the equipment would link the hospitals with the specialists who would view images sent by hospital employees and prescribe treatment for the patients.
MEDEXPO AFRICA 2021 Kenya
EXHIBITOR CATEGORIES
Hospital Supplies
Pharmaceuticals
Healthcare
Laboratory
Dental
Optical
Veterinary
Medical Equipments
& much more
MEDEXPO AFRICA 2021 Kenya EXHIBITION VENUE
Sarit Expo Centre, Nairobi, Kenya
EXHIBITION DATES
18 – 20 November (Thurs, Fri, Sat), 2021
INAUGURATION
11:00 Hrs on 18th November, Thursday
EXHIBITION TIMINGS
10:00 Hrs – 18:00 Hrs
MEDEXPO AFRICA 2021 Kenya Registration
Are you interested to attend MEDEXPO 2021 in Kenya?
MEDEXPO Africa 2020 Kenya Post Show Report
MEDEXPO AFRICA 2021 Ethiopia Brochures & Application Forms
MedExpo Kenya 2021 Brochure (5,508 Kb)
Advertising Application & Contract (401 Kb)
Exhibitor Accommodation Application & Contract (401 Kb)
Space Only Application & Contract (401 Kb)
Standard Stand Application & Contract (401 Kb)
Full Package Application & Contract (401 Kb)