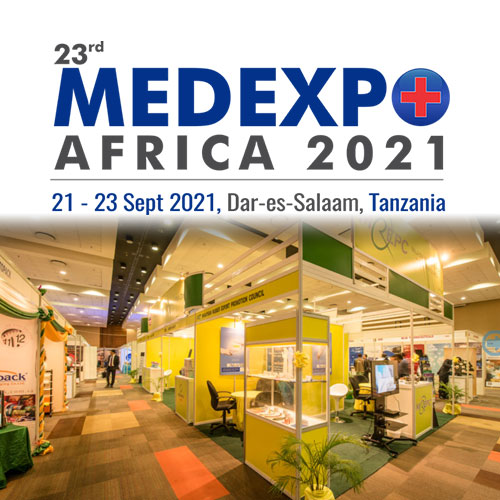 23rd MEDEXPO AFRICA 2021 – Tanzania
About MEDEXPO AFRICA 2021
Tanzania
The 23rd MEDEXPO 2021 – International Trade Exhibition is the largest trade event held annually in Tanzania, concurrently held with East Africa Trade Exhibition (EAITE).
The exhibition attracts exhibitors from more than 20 countries and visitors from all over East & Central Africa, thus giving exhibitors an excellent opportunity to explore several countries at one time.
Over the past few years, Tanzania has emerged as a major regional trade center.
This is mainly due to the very friendly and businesslike atmosphere it offers to foreign investors and products.
Duties are considerably low and re-exports to neighboring countries are either very low or exempted.
MEDEXPO AFRICA 2021 Tanzania EXHIBITION VENUE
Diamond Jubilee Expo Center P.O.Box 22096 Dar es Salaam – Tanzania
The Diamond Jubilee Expo Center is one of the leading centers in East Africa that host award-winning and successful international business meetings, seminars, and conferences every year. Being conveniently situated in a prime location, the center is easily accessible from various important places of the city.
Tanzania Healthcare Market
The Medical & Healthcare industry is a sector of the economy that transforms various resources into constructed physical economic and social infrastructure necessary for socio-economic development. The Tanzania Medical & Healthcare industry continues to be the most exciting and developing sector in the economy of the country, attracting thousands of investors.
MEDEXPO AFRICA 2021 Tanzania Exhibition Categories
Hospital Supplies
Medical Equipment
Dental
Optical
Pharmacology
Orthopaedics
Healthcare
Veterinary
Paediatrics
And more specialties
Anti-Covid Expo 2021
Medexpo Tanzania 2021 will host ANTI COVID EXPO, with a special focus on promoting products aiding the fight against the Corona Virus Pandemic. Tanzania with a population of 60 million also assumes the role of a gateway into the East African Region creating free access to a potential 133 million consumer market which is in demand of products like PPE kits, oximeters, breath analyzers, protective masks, medical gloves & shields, disinfectants & sanitizers, infrared thermometers and other medical safety gadgets. Major pharmaceutical companies and medical equipment and devices manufacturers are already looking for opportunities that have presented themselves today.
MEDEXPO AFRICA 2021 Tanzania Registration
Are you interested to attend MEDEXPO 2021?
MEDEXPO AFRICA 2021 Working Hours
The event will start on Tuesday, 21st of September, 2021 and will last for 3 days
The working hours during the event will start at 10:00 a.m and will end at 6:00 p.m
MEDEXPO AFRICA 2021 Tanzania Brochures & Application Forms
Medexpo Tanzania 2021 Brochure
Advertising Application & Contract
Exhibitor Accommodation Application & Contract
Space Only Application & Contract
Standard Stand Application & Contract