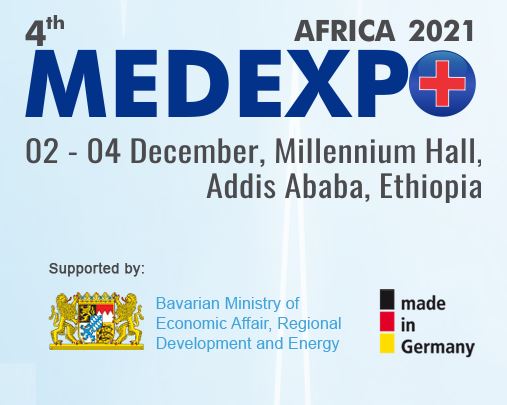 4th MEDEXPO Africa 2021 – Ethiopia
About MEDEXPO AFRICA 2021 Ethiopia
With a population of over 107 million people, Ethiopia is the second-most populous country in Africa. Over the last decade, Ethiopia has had one of the fastest-growing economies in the world. In 2017, Ethiopia's real Gross Domestic Product (GDP) expanded by 10.9 percent and is expected to grow by 8.5%, according to the World Bank.
Ethiopia is in the midst of a sustained growth surge that is setting ambitious targets for improvements in the health and medical sector because of its potential to contribute to improved health outcomes. At the forefront of this ambition is MEDEXPO AFRICA – ETHIOPIA.
After 23 years of successful shows in Kenya and Tanzania, MEDEXPO AFRICA – the region's leading international medical trade fair makes its foray into Ethiopia. Taking place at The Millennium Hall, Addis Ababa, from 23 – 25 September 2021
The medical industry in Ethiopia is estimated to be worth USD 400-500 million a year and is growing at an impressive rate of 25% per annum. The domestic demand for medical products reached 10 Billion Ethiopian Birr in 2015, yet there exists a huge gap between demand and supply. This gap provides an ideal scenario for investors and businesses looking to tap the market of one of Africa's fastest-growing economies.
MEDEXPO AFRICA – ETHIOPIA will showcase the latest developments in the healthcare and medical industry, with prominent industry experts, stakeholders and decision makers in attendance, making it an ideal event to source new products, network and usher in new contacts and business opportunities.
MEDEXPO AFRICA 2021 Ethiopia EXHIBITION VENUE
Millennium Hall, Addis Ababa, Ethiopia
Addis Park Development and Management PLC is a private company established in 2004 to run the Millennium Hall. The facility was built in 2006 by the distinguished Ethiopian business person H.E. Sheikh Mohammed Hussein Ali Al-Amoudi for the celebration of the Ethiopian Millennium. The Hall is equipped with modern and state-of-the-art sound and light effect technologies as well as exhibition materials to meet the needs of modern conventions.
The facility is located in downtown Addis, few blocks from Bole International Airport, at the mature and vibrant city center. Hotels ranging from four-star to luxury collections such as Sheraton Addis are at a 5-10 minute drive from the hall.
In addition, the hall has hosted events of national, regional and international standing with thousands of delegates and visitors.
EXHIBITION DATES
02 – 04 December (Thu, Fri, Sat), 2021
INAUGURATION
11:00 Hrs on 02nd December, Thursday
EXHIBITION TIMINGS
10:00 Hrs – 18:00 Hrs
MEDEXPO AFRICA 2021 Ethiopia Registration
Are you interested to attend MEDEXPO 2021 in Ethiopia?
MEDEXPO Africa 2020 Ethiopia Post Show Report
MEDEXPO AFRICA 2021 Ethiopia Brochures & Application Forms
MedExpo Ethiopia 2021 Brochure (5,508 Kb)
Advertising Application & Contract (401 Kb)
Exhibitor Accommodation Application & Contract (401 Kb)
Space Only Application & Contract (401 Kb)
Standard Stand Application & Contract (401 Kb)
Full Package Application & Contract (401 Kb)