Nursing as a profession can be an incredible experience and one that many people are attracted to. Not only can you be proud of the fact that your job is directly helping others, but it can also challenge you both professionally and personally. There are also a lot of progression opportunities in this field, allowing you to expand your horizons and pursue your healthcare ambitions at various stages of your career. It's also a great chance to learn more about medicine and the human condition when you're working so closely with patients every day, listening to their stories and gaining insight into who they are.
Yes, a nursing career can be the perfect fit for the right person, and if you have had your heart set on a nursing role, you might be ready to start your journey into this field. It will take a lot of dedication to your studies and this will be hard work, but the payoff at the end when you pass your exam to become a registered nurse will make it all worth it. No matter how prepared you are to start your education at nursing school, consider the following tips and advice to help you get the most out of your nursing career from now until your retirement.
Think About Your Strengths and Weaknesses
No one is perfect, and no matter where you are in your nursing career, there is always room for improvement. This is why it is worth taking the time to think about your strengths and weaknesses when it comes to both the essential and desirable skills you need in this role. Identifying the areas where you can make improvements will put you in a much better position for progression and feeling more confident in your role as a nurse.
Throughout your training and even later in your career, you will also receive feedback from your tutors and senior staff, and it's important to take into consideration what they have said to you. Sometimes getting another person's perspective can be better, as you might not always recognize areas that you need to work on for professional progression. Remember not to be too hard on yourself, however, and be proud of your strengths as a nurse while looking at your opportunities for improvement as a positive thing.
Make Sure You Are Being a Good Team Player
No matter what career you are in, being a good team player will always put you in a favorable position and could contribute to you getting noticed for promotions or other interesting opportunities. This isn't the only reason why you should be there to support your team, however. Nursing can be a very tough career at times, and everyone on your nursing team will need to be there for one another to get through these challenging periods. Forming these bonds can help encourage better communication with your colleagues and mutual respect, both of which will go a long way to creating a more positive working environment and delivering excellent care to patients. You don't have to become everyone's best friend, but being respectful and courteous to your colleagues will make you stand out as a professional healthcare worker. You might also get the added benefit of forming life-long friendships with some of your fellow nurses and healthcare team members.
­­Think About the Career Paths Available to You
One of the great things about a nursing career is that there are several paths available to you in this profession. You could choose to specialize in a certain area, such as mental health, pediatrics, or neonatal nursing. Other options include research roles and academic positions if you would like to train a new generation of nurses. Some nurses choose to become nurse practitioners, where they have additional responsibilities like giving diagnoses and writing prescriptions.
These are just some examples of the career paths you can choose to pursue within the field of nursing, and while you might not be sure of which direction to go at this early stage of your career, it's still worth researching these different roles. This can help you to get a better idea of the areas of nursing that would be a suitable fit for you, and you might even find that speaking to other healthcare professionals in these positions for advice or insight into these roles can help you make up your mind. While you don't have to rush into a decision, the sooner you start to think about where you want your career to go, the sooner you might achieve these goals.
Be Willing to Continue Your Education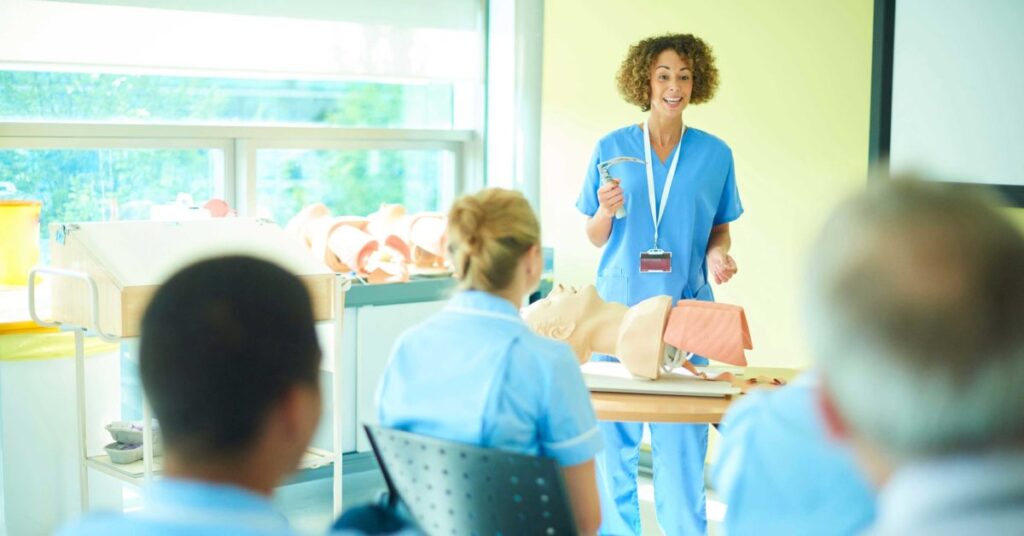 You must be open to continuous learning when you are working as a nurse, especially as there will likely be advances in medicine and healthcare technologies during your career. This is to ensure that you are delivering the best possible care to your patients, and can support the rest of the nursing and healthcare teams properly. You can keep yourself updated on healthcare news and other important topics by reading publications for this sector, as well as other general news sources. Attending nursing and other healthcare conferences can also be a great source of innovative ideas and other hot topics that you might find relevant to your career.
In addition to this, you might also want to think about whether or not it will be worthwhile to pursue further qualifications as a nurse. For certain roles that you might be interested in, this may be a requirement – but that isn't always the case. Nonetheless, pursuing a higher degree or similar certification can help you expand your knowledge and strengthen your skills as a nursing professional. If you want to try and fit your studies around your career, you can explore online degree programs like the ones at Holy Family University if this will be a more suitable approach for you.
Practice Good Self-care
It's no secret that this can be a demanding career, and you might find that it takes a toll on your physical and mental health at times. This is why you need to take good care of yourself, as this can help you to manage your work pressures more effectively and, hopefully, lead a more positive life. A great self-care routine includes eating a balanced, nutritious diet (although this doesn't mean you can't enjoy more indulgent treats once in a while!) Working as a nurse might mean that you are on your feet a lot during the day, but it's still good to get in regular exercise, particularly if you do start working in a slower-paced environment where you might spend more time behind a desk. Try to find exercises that you enjoy doing, as this will make it easier to keep up with a good workout routine.
Sleep is also important to good self-care, but this isn't always easy for nurses who are following alternating shift patterns. Even so, you should still try and get into a regular sleep routine to the best of your ability to help you get enough rest and to allow your body and mind to recuperate. If you do find that stress is keeping you up at night, try to do something relaxing before bed like taking a hot shower or bath. You might also find that doing some meditation before you go to sleep can help to quiet your mind and enable you to settle into sleep easier.
In addition to the above self-care points, you should also make sure that you are making time to enjoy yourself outside of work. Spending time with your friends and relatives can help to boost your mood, and they can also support you when you are struggling whether this is a career issue or personal. Enjoying some hobbies that are fun for you to engage in can also be beneficial for your mental health.
The better you feel mentally and physically, the better care you can provide for your patients and the more energy you will have at work to carry out your nursing duties.
Be Open to Moving to New Places
You won't necessarily have to move to a new area to enjoy a successful nursing career, but this is something that you might want to keep an open mind about. It's not uncommon for people to choose to move to a new town, city, or even another country to take advantage of career progression opportunities, and nursing is no different. Although nurses are in demand, you might find that a particular role you are interested in is only available elsewhere. While you could always wait and see if a similar opportunity comes up in your current area, being open to moving could prove to be beneficial for you. If you do choose to move to another state as a nurse, just be mindful that you will need to take another licensure exam to legally practice nursing in that state.
If you want to get the most out of your nursing career, consider the points above and keep these in mind as you embark on your journey to achieving your goals.
---
Read Also