Operating rooms (ORs) remained generally resilient amid two surges in COVID-19 cases, as one study by Stanford researchers reported. Despite the number of surgeries declining by almost half in early 2020, it returned—even surpassed—pre-pandemic levels midyear. These figures stayed stable even as a new wave of infections arrived in the fall and winter of the same year.
Researchers attributed the rebound to many factors, one of which was the resumption guidelines the Centers for Medicare and Medicaid Services issued five weeks after its mandatory reduction of elective surgeries. On top of COVID testing before the procedure, the guidelines required ORs to have adequate facilities and supplies.
As one of the most necessary facilities in a healthcare center, the OR must be in full gear at all times. It has been a lifesaver for millions of Americans suffering from the gravest of illnesses and will continue to do so. Below is a complete overview of a typical OR's loadout.
Personal Protective Equipment (PPEs)
The use of personal protective equipment has been a standard in ORs long before the pandemic, as infections can spread through blood loss during surgery or the indoor air. Surgeons, assistants, and other practitioners must wear a complete PPE set, which consists of:
Sterile gloves
Surgical gown
Head and shoe covers
Facemask or respirator
Face shield or goggles
The PPEs are among the most readily available and consumable supplies. Healthcare centers spend around USD$3 billion on PPEs yearly, or around USD$12 per patient daily. An online medical supplies distributor such as ciamedical.com and other suppliers are primary sources of PPEs.
OR Integration System
Medical technology has advanced to the point of requiring its seamless function in a clinical setting. In the OR, there's a need to integrate current technologies, such as high-resolution imaging, teleoperation, and computer-assisted manipulation, into a single command and control station. Such is the task of an OR integration system.
By having someone in the main controls, the system can mitigate the need for practitioners to move around the room. The controller can focus on adjusting systems like lighting, imaging feeds, audio-visual feeds, and climate control upon request. This arrangement allows critical personnel to stay with the patient and concentrate on the operation.
Demand for integrated ORs has increased with the increasing popularity of minimally invasive surgery (MIS). A 2020 research paper published in the Journal of the Society of Laparoscopic and Robotic Surgeons reported that the average number of cases necessitating MIS increased by 36% from 2003 to 2019. The improved accuracy integrated ORs provide can be advantageous.
Quality Equipment Sterilizers
Sterilization of medical equipment in the operating room is critical for protecting patients from infection. Improper sterilization can lead to the spread of deadly infections.
Healthcare facilities need to use quality equipment sterilizers in order to ensure that all equipment is properly disinfected. Many hospitals rely on equipment sterilizers from reputable manufacturers to ensure patient safety.
However, there may come a time when sterilizers need repair or servicing. In this case, it is important to seek out a qualified sterilizer repair service that can offer high-quality repairs and services.
Blanket Warmers
Amid its intended effect of numbing pain sensations, general anesthetic also has the unintended consequence of pre-surgery hypothermia. This condition refers to the patient's body temperature dropping below 96.8oF, causing the patient to shiver. It's a common occurrence that can lead to an increased risk of infection and increase the time required to recover.
Because of this, before any procedure, practitioners provide warmth to the patient by wrapping the latter in a blanket. A blanket warmer can maintain a steady supply of warm blankets inside the OR. The recommended temperature setting is 130oF, presumably to prevent skin burns, but some studies say a temperature setting of 200oF is still safe.
Blanket warmers also work as storage for intravenous fluid packs and blood bags. However, experts advise against storing these in the same unit to prevent the risk of infection. Limit a blanket warmer to one type of OR supply only.
Operating Table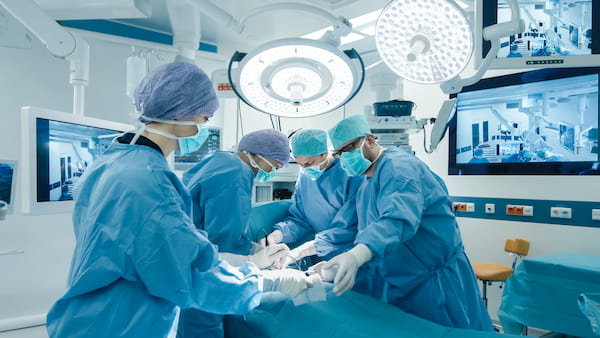 The operating or surgical table is perhaps the centerpiece of any OR, literally and figuratively. While a general table can meet most OR needs, other specialized tables exist, such as:
Orthopedic – Designed for treating fractures and other related conditions, orthopedic tables feature enhanced control and flexibility compared with general tables.
Radiolucent – Also called fluoroscopic tables, radiolucent tables are ideal for procedures that require high-resolution imaging data.
Kidney Elevator – These beds have an adjustable thoracic elevator that can aid surgeons in kidney procedures.
Equipment Boom
Equipment or surgical booms centralize all OR instruments, including their power outlets and storage spaces. Keeping outlets within the boom eliminates the need to run wires on the OR floor, reducing the risk of tripping.
Some models come with gas outlets for easier administration of medical gases. Others include a smoke evacuation mechanism that removes toxic gases from specific procedures, namely laser or electric-heavy ones.
Conclusion
These examples are the minimum that an OR requires to fulfill its role. The unabated progress of medical technology will add more state-of-the-art equipment to the conventional OR. As none of these devices need significant capital, healthcare centers must choose and work with a reputable medical equipment provider and consider the amount of training required to operate the devices.
---
Read Also