Despite the rise in popularity during the COVID pandemic, telehealth remains a relatively new offering from the healthcare industry. Combining advanced communications technologies with the expertise of real healthcare providers, telehealth provides patients with convenience, speed and low-cost in accessing basic health services.
Still, many patients have questions and concerns about telehealth that need to be answered before they are willing to make their first appointment with an online doctor. Today, we will address many if not all of those questions and concerns right here:
What Is Telehealth?
Telehealth is the use of advanced digital communications technologies in the practice of healthcare. Most commonly, telehealth refers to digital services that allow patients to communicate with an online doctor through video, voice, or text chat from the comfort of their homes, but telehealth actually has many valuable applications that could radically improve the effectiveness of healthcare.
For example, remote monitoring devices collect patient data and automatically send that data back to healthcare providers for analysis, so providers now have access to accurate information in real time and can make alterations to treatment plans to ensure better patient outcomes.
Additionally, telehealth could facilitate communication among healthcare providers, so patients can gain access to a knowledgeable team of providers in their pursuit of health.
What Do You Need for Telehealth?
Patients interested in taking advantage of telehealth solutions need the ability to connect to the internet from their homes.
Their internet connection must be fast enough to stream video without interruptions, which means a download speed of at least 25 megabytes and an upload speed of at least 3 megabytes.
Patients also need devices that allow for video or audio communication, like a laptop, tablet or smartphone, though these can be borrowed from loved ones if the need arises.
Can You Use Telehealth If You Are Not Good With Tech?
In truth, the populations that most benefit from telehealth solutions tend to overlap with the populations least likely to have advanced tech knowledge and skill.
Fortunately, telehealth is not difficult to use. Telehealth services usually have straightforward instructions to help patients connect with providers, and most remote monitoring tools require little to no interaction from patients, who need only live their lives as usual.
Still, patients uncomfortable with technology can ask for clear instructions from telehealth providers or lean on loved ones with more tech-savvy to help them acquire the healthcare they need.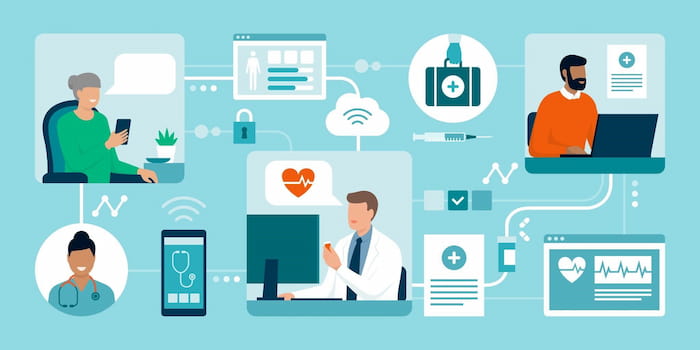 Is Telehealth Secure?
Patient data is among the most sensitive data in the world, and many patients are hesitant to utilize telehealth services in fear that their data will become vulnerable to cyberattacks.
Unfortunately, all digital data is vulnerable to some extent, but most telehealth services invest heavily in cybersecurity measures to protect patients and providers from leaks.
Users can investigate a company's cybersecurity policies before using their telehealth services if security is of prime importance.
What Conditions Can Be Treated Through Telehealth?
Physical health often requires physical tests and physical treatments, so not all health conditions can be rectified through a single telehealth appointment. Fortunately, patients can gain fast and convenient access to a number of vital services, including:
– Prescription management
– Lab test results reviews
– Simple urgent care, like cold and flu
– Simple recurring conditions, like UTIs
– Basic physical therapy
– Referrals and follow-ups
Can You Use Your Regular Provider With Telehealth?
Patients who prefer to receive care from a provider they know and trust should ask their provider about telehealth opportunities.
Through the pandemic, many healthcare providers invested in telehealth services to remain connected to their patients, so it is likely that a beloved provider has telehealth available for their patients.
Does Insurance Cover Telehealth Visits?
Because providers can practice through telehealth without the need for extensive and expensive offices, telehealth services tend to be more cost-effective than traditional medical care.
As a result, insurance providers much prefer when patients utilize telehealth over typical in-office visits. Many providers will cover most if not all the costs of telehealth, though individual patients should review their unique policies to verify before making any telehealth appointments.
The more patients come to rely on telehealth solutions, the sooner they will realize how revolutionary it can be in delivering healthcare in a fast, convenient and low-cost way.
Any other questions about telehealth can be directed to telehealth customer service teams or to healthcare providers offering telehealth services.
---
Read Also