As the world of marketing changes and adapts to new technology, so too must the strategies used to target consumers. In the healthcare industry, this is especially important, as patients are often inundated with advertisements and information from various providers. As we move into 2023, it is important for healthcare marketers to be aware of the following best digital marketing strategies in order to stay ahead of the curve.
First, it is important to target patients based on their specific needs and interests. Second, these consumers must be reached where they are looking for information. Finally, it is essential to create a digital marketing campaign that offers real value to the consumer.
Why Digital Marketing for Healthcare is Essential?
As the healthcare landscape continues to evolve, so does the need for effective digital marketing strategies. Healthcare organizations must be able to reach and engage their target audiences online in order to stay competitive.
Digital marketing provides a number of benefits for healthcare organizations, including the ability to reach a larger audience, connect with potential patients on a personal level, and track results in real-time.
With so many patients now turning to the internet for health information and guidance, it's essential that healthcare organizations have a strong digital presence.
By investing in digital marketing, healthcare organizations like clinics and hospitals can ensure that they are providing their target audiences with the information and resources they need when they need it most.
In doing so, they can not only improve patient outcomes but also build trust and loyalty among current and potential patients.
The state of healthcare digital marketing in 2022
In just a few years, the internet has become an integral part of our lives. It has changed the way we communicate, the way we learn, and the way we work. It is hard to imagine life without it.
The healthcare industry is one that has been transformed by the internet. Doctors and patients alike are using digital channels to find information and connect with one another.
The rise of social media has made it possible for patients to connect with doctors and other healthcare professionals from all over the world.
Digital marketing in healthcare is still in its early stages, but it is growing at a rapid pace. Healthcare providers are starting to see the potential of digital marketing to reach new patients and engage existing ones.
By 2023, digital marketing in healthcare will be more sophisticated and targeted than ever before.
The challenges of healthcare digital marketing
As the healthcare industry becomes more competitive, so does the need for effective digital marketing strategies. However, there are several unique challenges that come with marketing healthcare products and services online.
For one, health information is heavily regulated by the government to ensure that it is accurate and up-to-date. This can make it difficult to create compelling content that stands out from the competition.
Additionally, many healthcare consumers are hesitant to share personal health information online due to privacy concerns.
Finally, healthcare providers must be careful not to violate HIPAA regulations when using digital marketing tools like email and social media. These regulations protect patient confidentiality and have strict rules about how patient data can be used and shared.
Despite these challenges, there are still many opportunities for healthcare companies to reach their target audiences through digital channels.
Healthcare consumer trends for 2023
As we move into 2023, healthcare consumers will continue to demand more personalized experiences. They'll want access to their health data and the ability to control how it's used. They'll also expect more transparency from providers about costs and quality.
To meet these expectations, healthcare marketers will need to focus on creating targeted content, developing innovative technologies, and building trust with consumers.
The 5 Most Important strategies for Healthcare Digital Marketing in 2023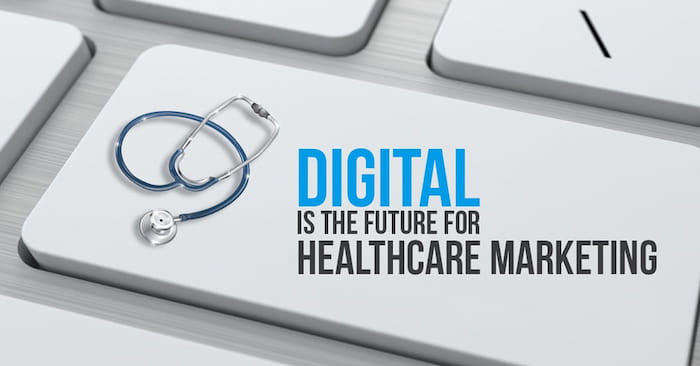 As the healthcare landscape continues to evolve, so too must the digital marketing strategies employed by healthcare organizations. Here are five healthcare digital marketing strategies that will help you stay ahead of the curve in 2023:
1. Invest in SEO
As competition for online attention increases, investing in SEO will become even more important for healthcare organizations. Make sure your website is optimized for search engines and that your content is relevant and engaging.
2. Build Engagement & Education Channels With Social Media
Social media will continue to be a powerful communications tool in 2023. Use it to connect with patients and build relationships with key influencers.
3. Create a Mobile-Delivered Value
More and more people are accessing the internet via mobile devices. Make sure your website is mobile-friendly and that your content can be easily viewed on a small screen.
4. Create Targeted Content
Consumers will increasingly turn to online search engines and social media for health information. To reach them, you'll need to create targeted content that's easily accessible and relevant to their needs.
5. Develop innovative technologies
Healthcare consumers are already using a variety of digital devices and platforms to manage their health. New technology is constantly being developed to help patients monitor their condition, communicate with doctors, share information with family and friends, manage medications and even schedule appointments.
How to Increase the Efficiency of Healthcare Digital Marketing Strategies?
Focus on Personalization
Personalization will be key. Patients want personalized content that's relevant to their needs and interests. This can be achieved through targeted emails, social media ads, and website content.
Focus on Patient Experience
As we move into the next decade, healthcare marketers will need to focus on improving patient experiences. This includes everything from the design of websites and apps to the quality of care provided by hospitals and doctors.
Build an AI-Powered Health System
Artificial intelligence (AI) has been used in medicine for decades. It's now being applied to improve the delivery of healthcare services. AI can help with tasks such as diagnosing diseases, predicting outcomes, and providing insights into how patients respond to treatments.
Create a Data-Driven Culture
As we move forward into the future, data will become increasingly important. This means that healthcare organizations must start thinking about how to use data to make better decisions. They need to develop an environment where data is shared across departments and functions.
Embrace Blockchain Technology
Blockchain technology has been gaining traction as a potential solution to some of the challenges facing healthcare. It offers a decentralized network with no central authority, making it ideal for storing patient records securely or working with flexible payment solutions.
Develop a Mobile App Strategy
A mobile app strategy will help you reach more people and build brand awareness. You should consider creating an app for both iOS and Android devices. If you choose to develop an app for one platform only, make sure to test it thoroughly before launching it publicly.
Build Meaningful Chatbots
Chatbots will become more popular. Chatbots can provide 24/7 support and help answer patients' questions quickly and easily. They can also be used to schedule appointments and follow up with patients after their visit.
Video Content is a Super Star
Video content will continue to grow in popularity. Videos are a great way to engage patients and promote your brand. They can be used on your website, social media channels, and email campaigns.
The Bottom Line
As we move into 2023, healthcare digital marketing teams will need to be prepared to face new challenges. The landscape of digital marketing is constantly changing, and healthcare organizations must be nimble in order to keep up.
Keep your audience top of mind. As you develop your marketing plans, always think about who you are trying to reach and what message will resonate with them.
Use data to inform your decisions. With so much information available, it's important to use data analytics to guide your strategies. This will help you determine what's working and what isn't so you can make adjustments accordingly.
Be patient and stay the course. Change doesn't happen overnight, so don't expect results immediately.
---
Read Also