Are you curious about Vendor Neutral Archive (VNA)? Have you been hearing the term more and more, but don't know what it means? If so, this blog post is for you! We'll explain what a VNA is and how it can benefit healthcare organizations. Plus, we'll provide an overview of the features and benefits of a VNA system. So read on to learn more!
What Is VNA?
Vendor Neutral Archive (VNA) is a term used to describe a healthcare technology that allows medical images, documents and data to be stored in a single, independent system. VNAs provide the ability to keep patient information secure, organized and easily accessible by multiple people and organizations.
This type of archive offers benefits for both patients and healthcare providers by allowing for seamless data sharing between different departments or facilities without the need for proprietary software solutions.
VNA systems are designed to store all types of medical data including radiology scans, lab results, patient records, laboratory information systems (LIS), electronic health records (EHRs) and other clinical documentation.
By using this type of storage solution, healthcare providers can quickly access critical medical information from anywhere at any time without having to worry about compatibility issues between disparate systems.
Benefits of a VNA
VNAs are beneficial for healthcare organizations as they enable growth and smart scale-up without workflow interruption, while also consolidating, standardizing, and archiving images and data from different PACS.
Additionally, a VNA can dramatically simplify data management, by providing a 'cognitive' data strategy, which helps to reduce costs associated with data proliferation.
By implementing a VNA, healthcare organizations can benefit from cost savings and improved patient outcomes.
Who Can Benefit from a VNA?
A Vendor Neutral Archive (VNA) is a powerful medical imaging technology that can benefit many healthcare organizations by allowing them to securely store and access images and documents.
It is an effective tool for connecting and standardizing imaging silos across a medical institute or multiple healthcare facilities, enabling secure control over data sharing and allowing for cost savings.
On-premise VNA solutions are particularly beneficial as they are perceived to be more secure and cost-effective than cloud-based solutions. With VNA, hospitals and healthcare cities can optimize their data flow while also reducing costs and increasing efficiency.
---
Also From Islam Ameen
---
Types of Data Stored in a VNA
A Vendor Neutral Archive (VNA) is a medical imaging technology in which images and documents, such as image files, video clips, and any other unstructured clinical content, are stored in a standard format and interface.
This allows for the consolidation, standardization, and archiving of data transmitted from different devices and equipment.
VNA software also provides "context management" to present data in a different format than their original state, you can encapsulate data into another format while keeping its original format.
VNA can receive multiple types of data including images, videos, and documents, so it includes all types of files even if it's DICOM or Non-DICOM.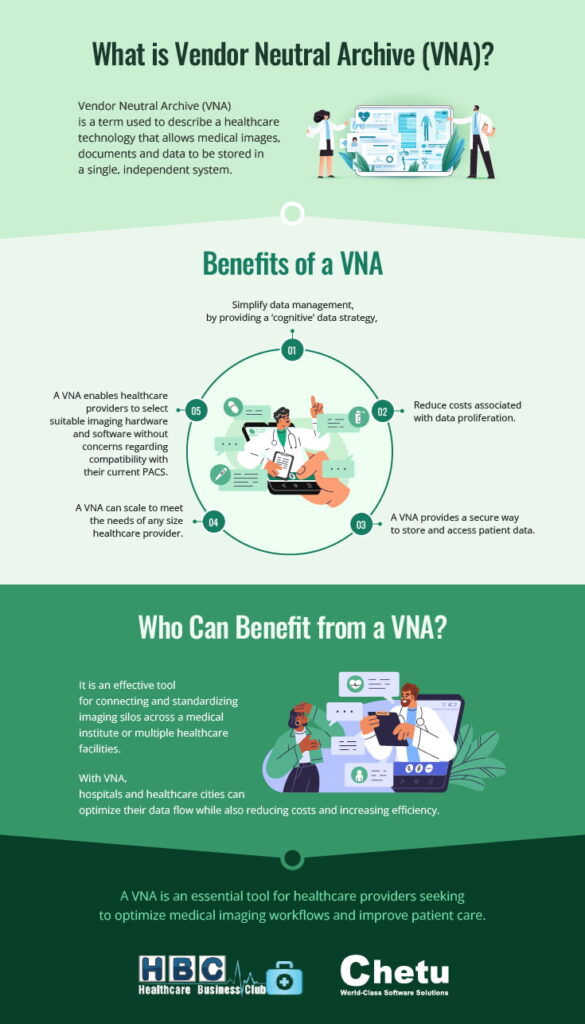 How Does a VNA Work?
VNA allows interoperability between different vendors and systems, allowing healthcare professionals to access images regardless of the origin.
VNA also decouples the PACS and workstations at the archival layer, providing a more efficient system of data access and retrieval.
No matter what your imaging vendor is, VNA's main responsibility is to keep your data accessible anytime through any vendor.
VNA provides better interoperability in the entire ecosystem of health informatics as it unifies all patient and clinical data into a single repository.
Advantages of Using a VNA
VNAs offer several advantages, such as cost savings by eliminating isolated storage dedicated to individual PACS, enhanced interoperability and data exchange, and simplified storage architecture.
VNAs also increase overall data security by having secure control of all image data with one central archive.
Additionally, VNAs can provide faster backup and disaster recovery due to the consolidated archive. The cognitive data management strategy offered by VNAs can both simplify data management and increase efficiency.
Challenges to Implementing a VNA
Implementing a VNA can be a challenging process, as it requires synchronizing with existing PACS systems and migrating large amounts of data.
Additionally, transitioning to a VNA is costly, both in terms of time and money. Despite these challenges, the advantages of a VNA can be significant. It can break down data silos and provide image identification, unified access, and improved patient care.
Ultimately, the benefits of a VNA are expected to outweigh the costs, making it an attractive option for healthcare enterprises.
Cost and Implementation Considerations for a VNA
This technology was associated with more than 10% cost savings and 30% reduction in storage costs. Additionally, VNA provides superior support for disaster recovery and enhanced economic efficiency.
When implementing a VNA solution, facilities should consider four key elements: accessibility, big data analytics, cost reduction and secure low-cost object storage.
By selecting the right VNA solution, organizations can ensure that they are getting the most out of their investment and reaping the benefits of this powerful technology.
Security and Compliance Concerns for a VNA
To ensure security and compliance, VNAs are HIPAA-compliant, providing the security measures necessary for protecting patient data.
In addition, VNAs create scalability issues, as the need to aggregate and share imaging data from multiple sources can create security risks.
Thus, transitioning to a VNA is more than just solving storage challenges, but also about providing image identification and security measures to protect patient data.
What Tools Do You Need to Implement A Successful Vendor Neutral Archive Solution?
A successful Vendor Neutral Archive (VNA) solution requires a number of tools, including software reviews and comparisons, alternative solutions and pricing.
Data is an essential component of the implementation process and can be used to improve clinical workflows. VNA technology can also be used to meet data management and accessibility objectives.
KLAS rankings are available from Health IT professionals to help users select the most suitable VNA software solution for their specific needs.
A VNA is an enterprise-wide image management platform and repository of patient-centric medical images, and should be taken into consideration when selecting the appropriate software.
Developing an Effective Strategy for Your Organization's Use of a VNA
It is an important component of providing value-based healthcare, as it can help to organize and streamline unstructured data.
A VNA-enabled strategy for developing a comprehensive patient record is cost-effective and straightforward.
Since 2006, the concept of an enterprise-class VNA has been gaining traction, as it focuses on ensuring that all PACS software solutions are working optimally and efficiently.
You should clearly define your objectives of applying a VNA solution, if data really matters to you so buying a VNA solution is meaningful.
Make sure that you are getting the latest technology from a reputable vendor that can support you in education and implementation.
Make sure to have a well-established IT infrastructure so you guarantee data integrity and security to avoid any health data breaches via cyberattacks.
Conclusion
Vendor Neutral Archive (VNA) is a medical imaging technology which facilitates the acquisition, administration, and storage of images and documents. It is a step further for PACS (picture archiving and communication systems), allowing enterprise access to both DICOM and non-DICOM images. The versatility of VNA solutions can be leveraged for silo busting and provide the heterogeneous PACS environment with a cornerstone for image management. The growing demand for improved patient care, data privacy, and interoperability are some of the key drivers for the growth of VNA and PACS markets in North America.