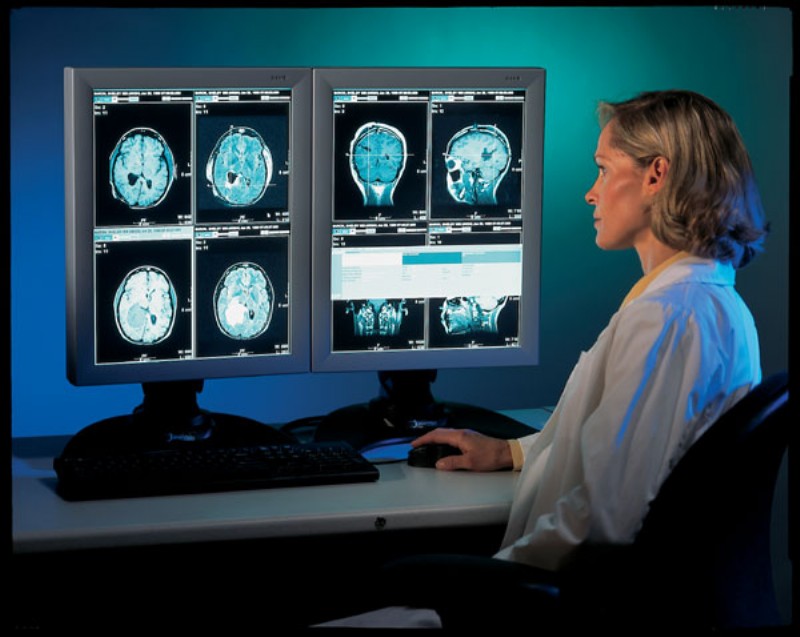 PACS is an abbreviation that stands for Picture Archiving and Communication System, healthcare professionals in the Middle East and Africa call it PACS system or PACS solution.
It's one of medical imaging technology that transforms the conventional paper workflow of radiology images and reports into a paperless workflow, it's mainly responsible for Receiving, storing and transferring all of the medical images and reports in a digital format with unlimited and reproducible copies.
PACS support various types of medical imaging modalities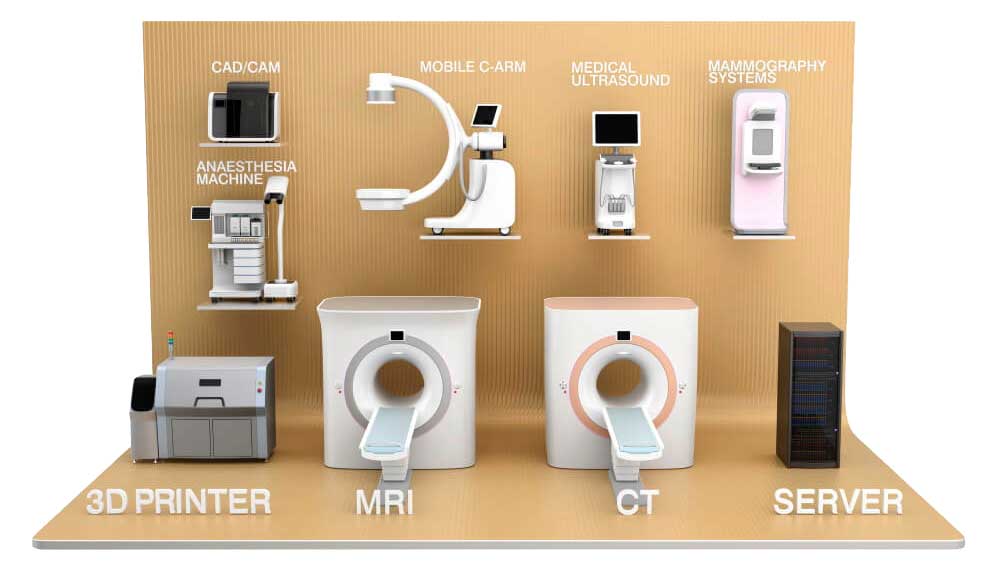 The available PACS systems in the market now are capable of receiving medical images from mostly all medical imaging modalities including X-ray (computed radiography), ultrasound (US), mammography (MG), computed tomography (CT), magnetic resonance imaging (MRI), positron emission tomography (PET).
PACS is also capable of acquiring non-radiology images like endoscopy, pathology & ophthalmology.
To acquire all of these images from different sources there is a standard extension for medical images called DICOM which stands for (Digital Imaging and Communications in Medicine), it's the standard file extension of all medical images that enables the image acquisition from any modality, archive these images in one system, and transfer images to another facility if required.
The Main components of PACS
Software
PACS software can be divided into 2 main components which are:
1- Back end software, which is responsible for archiving of images in an organized database
2- Front end software, or we call it PACS viewer which is a program to view and manipulate images with a lot of measurement and image reconstruction tools, actually it's functioning like photoshop but for the medical images.
What are the benefits of PACS solution?
Benefits for Management
Streamlined & efficient workflow
When you apply a PACS system you will benefit from the organized workflow with less human interference, moving the process faster and avoiding human errors. If you have a full RIS/PACS solution, You can avoid errors of data entry into imaging modalities and save technicians time to process more scans in less time.
It allows you to utilize your resources more efficiently as PACS can transfer images and reports in few seconds by few clicks. Consequently, you are saving their time which is consumed in image and report transfer to do more important tasks.
Cost saving, less or no image printing.
The printing of conventional films is costly for buying films, printers and its maintenance. Using a PACS solution will transform this practice into another cheaper alternative which is burning CDs or getting a paper printing solution. Now in the market there are image sharing solutions that deliver images and reports to the patient's hand even without burning CDs but via mobile apps or patient portals.
Benefits for physicians
Better Diagnostic precision
Empowering a radiologist with full image series of a CT or MRI scan is really beneficial and better than giving a few images on countable films. Also PACS systems are armed with image manipulation and measurement tools that allows radiologists to diagnose images efficiently unlike radiology films which give a static view with a limited number of images.
PACS archives and organizes patient former exams in a chronological order that allows radiologist to review all patient history which can be really beneficial in giving a better and more precise diagnosis.
Enhanced productivity
The digital processing of radiology exams saves radiologists and clinicians time as they don't have to wait for the images, they can access it once the scan is finished. Organized report templates empower radiologists to save time and work faster than before which results in reporting more exams in less time.
Better accessibility
Most PACS vendors nowadays are providing the Tele-radiology solutions that enable radiologists to work anywhere in the world even if they are in another country.
Getting a second opinion or consultation
The presence of the Tele-radiology option allows physicians to get a consultation or a second opinion even collaboration on diagnosing a study anywhere they are. So if you are diagnosing a CT scan of complicated findings you might get help from another consultant in another hospital, city or even another country.
Benefits for patients
Patients can get a higher service quality in less time by saving radiologists time and giving them better diagnostic tools.
With PACS, patients are subjected to lower radiation dose by avoiding repeated scans due to problems in image quality, plus they can preserve a digital copy of their scans with unlimited lifetime unlike the conventional films, they even can share these images in their original quality via mobile Dicom viewers available in the market.
Who Should use a PACS solution?
PACS is mainly used by radiologists to view, diagnose and report the medical images of patients, other users of PACS system might include other clinicians and referring physicians to view the images and comments in reports of patient images, even patients might access their images and reports archived in PACS through patient portals through web or mobile applications.
What is the required PACS infrastructure?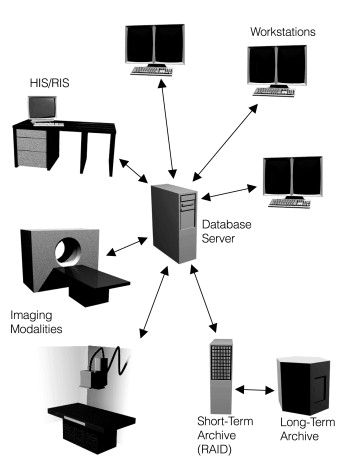 To get a fully functional PACS system you should have the following components:
1- Medical Imaging modality to take medical images of the patient.
2- Server to archive all data and application setup.
3- Network connectivity to transfer medical images from all modalities to the server and transfer the medical images and reports to other destinations inside the facility or even outside the facility for teleradiology and tele reporting.
The best in practice specifications for network components are using network cables CAT6 and using switches of 1 gig speed to assure a good speed of image transfer.
4- Workstations for radiologists to view, diagnose and process medical images.
5- Viewing stations for viewing the medical images and reports by clinicians and referring physicians from other departments.
6- PACS software license from any trusted vendor that achieves the hard equation of cost and quality.
What is the basic PACS workflow?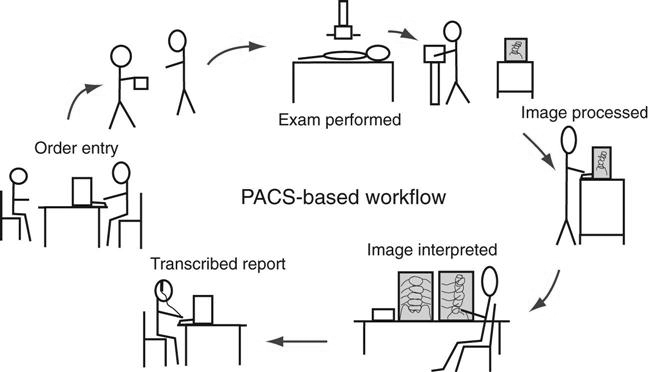 In the absence of the radiology information system (RIS), the PACS based workflow starts from the image acquisition stage, patient data are manually entered in the imaging modality.
After performing the scan, the images and patient information are transferred to PACS server for archiving and getting ready for the retrieval by radiologists to be diagnosed.
The radiologist starts opening his/her own account from the PACS system to start the diagnostic work by viewing the worklist that has all radiology studies that need to be diagnosed.
After accessing specific study for diagnosing, radiologists can find some image manipulation tools in the PACS viewer to start the diagnosis and reporting.
After writing and verifying the report the images and report are archived again in the PACS server then they are ready for clinicians to view and take the appropriate action with their patients.