Overview
Now, all dentists have been realizing that marketing a dental clinic is a major component of the success of the dentist and the prosperity of his work.
This is due to the dental patients' keenness in most of the time to go to the well-known dental clinic.
Even if you have deep experience as a dentist, you will not find yourself a worthy position if you do not pay attention to marketing your dental clinic and highlighting your experiences.
Healthcare marketing for dental clinics does not only means acquiring new patients, it also means gaining the loyalty of existing patients and making them permanent customers.
Understanding this fact may not be difficult for you, but the real difficulty is figuring out how to do efficient marketing for your dental clinic?
There is no exact answer. There are many dental marketing ideas that you can consider. The best thing is to make a combination of different and effective strategies based upon the analysis of your market carefully.
In this article, we will review the most powerful marketing strategies that should be used in the marketing of dental clinics.
Social Media Marketing for Dental Clinics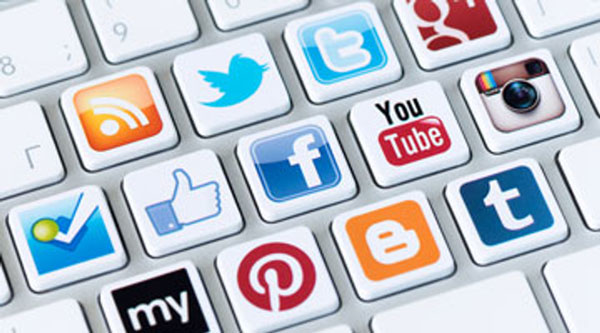 It is necessary for any successful brand to build a positive and strong mental perception of its customers and other potential customers.
It is important to maintain this perception by always staying in front of their eyes and reminding them of you constantly, and here lies the power of social networking websites, that help you to stay connected with your own community and keep your brand in front of their eyes and in their minds constantly.
The different social media websites give you the ability to measure the success of your marketing plan in detail, it's full of data analytics that measures campaign KPI's and the ROI of your campaigns.
This is a successful strategy that includes social media marketing. It helps you to identify the strengths and weaknesses of your marketing campaign, which gives you rich insights to make successful optimization to your plan on an ongoing basis.
Social media platforms also provide you with a great opportunity to spread the testimonials, reviews, and successful experiences of your current and former patients.
These experiences represent the power with the greatest impact on attracting new patients to your clinic.
We are now reviewing with you some of the most important requirements for managing your social media pages for use in marketing the dental clinic
Dental Clinic Marketing Objectives
The goal differs at each stage of your marketing journey, at first the goal is to make awareness about your name and introduce yourself as a professional dentist to potential customers.
Then the goal is to build a strong positive perception about the quality of the service you provide, and then comes the goal of attracting actual patients For your clinic to increase income and profits.
Dental Clinic Competitive Analysis
You should study your market and competitors who are giving the service nearby, a survey about the pricing of competitors, and what are their existing marketing strategies.
You can check your competitors' social media pages on different platforms, and make your focus on the successful candidates mainly.
This study will make it much easier for you, whether in creating appropriate content or developing successful strategies for ad campaigns.
A crucial aspect of dental clinic competitive analysis is your organizational profile. Your dental clinic must have qualified, experienced, and well-trained dental care assistants and dentists like the top dental clinics employ in your local area.
Check out your competitors' organizational profiles to determine what makes their dental clinic credentials impressive. Find out which schools or universities dental staff learn about dental hygienist training, dental cosmetic procedures, and other oral treatments. 
That way, you can improve your hiring process and employ the top talents. Post their credentials and a short bio on your website for clients to see, making your dental clinic more credible and competitive.
Dental Clinic Target Segment
Dental patients often visit clinics in their surrounding areas. It would not be reasonable to target a segment in an area too far from your clinic.
Studies also indicate that women are more interested in the services provided by dental clinics; So, it would be right to place women in a higher priority than men.
You must also determine the appropriate age that you target segment and the problems of those patients that you seek to solve (such as problems with crooked teeth, teeth decay, and teeth affordable braces).
All this helps to create attractive and appropriate content for the target groups that highlight the extent of your ability to address these pain points.
Appropriate Platforms for Dental Clinic Marketing
According to the type of content expected to be presented, Facebook, Instagram, and YouTube are the best platforms in marketing a dental clinic.
Dental Clinic Marketing Budget
The budget for marketing your dental clinic includes the cost of ad campaigns, the cost of creating the content, and the cost of creating, managing, and following up the page.
One marketing strategy many dentists prioritize nowadays is search engine optimization (SEO) marketing. Most US-based agencies charge their clients between US$2,500 and US$10,000 monthly to develop and implement an SEO strategy. According to Ahrefs, SEO plans usually cost about US$2,819 monthly, while overseas SEO agencies charge US$10 to US$50 per hour.
While you can use your personal or business savings to fund your marketing campaigns, you can also consider other financing options.
Suppose you want to run a massive digital marketing campaign with the help of marketing professionals or agencies. You can take out a dental practice loan to fund your marketing expenses, purchase new equipment, and other dental business purposes.
Dental Clinic Content Marketing Plan
Before starting to implement your dental clinic marketing plan, you should think about the value that you should provide within your marketing activities, specially through content.
Giving people information and insights about your services, experiences, or valuable information about dental problems can be a good start for a content strategy.
Your content marketing plan should define the ideas that you will present in your content, how to present the content (photo, video, infographics, my book …), what will be the frequency of this content, is it daily, weekly, monthly?
As a dentist it will be important to diversify your content, telling valuable information about dental problems, tips for keeping healthy teeth, and other informative topics about different service in dentistry that can be interesting to your audience.

For example
• Publications that teach patients the differences between two different techniques: such as the difference between dental bridges and dental crowns.
• Publications for the materials used in dental operations: they can be introduced to the porcelain material used in dental fixtures, as well as the zirconium material, and to publish photos of the two types of fittings to clarify the differences between them.
• Videos explaining a disease or a specific process, explaining to them in a video the symptoms of dental neuritis and what they should do in that case, the motion graphics videos achieve viral spread and greater interaction.
• Customer reviews posts, Publications in which you publish your customers' experiences will increase the interaction on the page more and increase potential customers' confidence in you and their willingness to receive dental services from your dental clinic.
• Pictures before and after operations, the image of the teeth is published before the braces are fitted and their image after the end of the brace's installation period, or the image of the jaw before the fitting of the teeth and its image after it is installed, and the patient's consent is required before publication.
Also, the content plan should include pinned posts such as those that give them an overview of the doctor and clinic.
Dental Clinic Advertising Campaigns on Social Media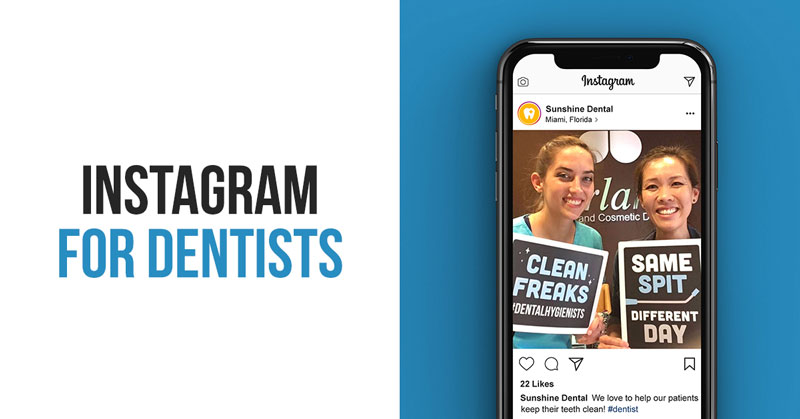 Ad Campaigns are a major and crucial step for the success of your marketing campaign.
To create a successful sponsored ad, you must have marketing experiences in general, as well as expertise in digital marketing and creating promoted ads on multiple social media channels.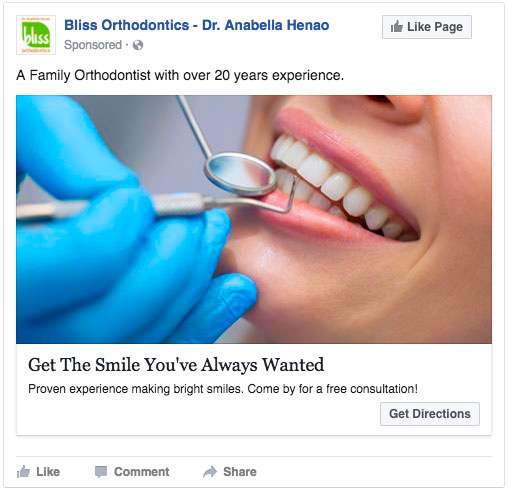 Determining the targets for your ad campaign and retargeting ads will increase the demand for your dental clinic significantly.
But remember that spending money on unplanned campaigns, foggy objectives make them worthless, so you should seek the help of experts and not be satisfied with your knowledge of how to create promoted ad campaigns.
---
---
Create a Professional Website for Your Dental Clinic
Out of every 20 researchers on Google, one of them searches for something related to health (such as searching for a doctor or information about a disease or surgery), the website gives you a great opportunity to add many health-related topics and thus spread among a huge number of Google users.
Likewise, 80% of patients search for a therapist on the internet. the existence of your website on search engines increases their trust in you and contributes to a positive perception of you. This highlights your clinic as a reputable brand and differentiates it from competing for dental clinics, especially if the site is professionally designed.
By building a professional dental website design, you can create a community of past and current patients. Besides this, the website helps you to reach potential patients in an impressive way.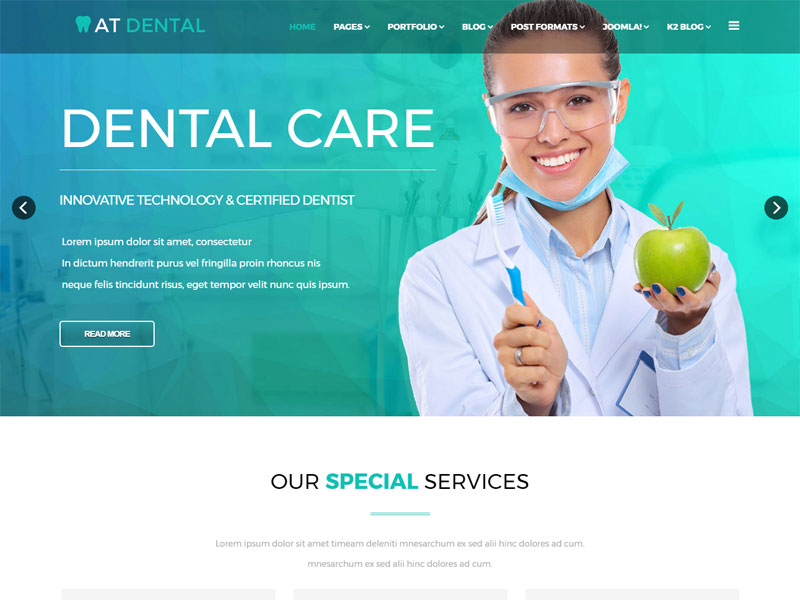 Your site should contain some major sections such as:
• About you section contains real information and professionally written. Data on this page includes the dentist, working staff, their experiences, and their certificates,…etc.
Services page in which you mention all services you provide in your dental clinic, you can put some photos for your dental clinic and show the quality of service you provide.
You know that most of the people are getting afraid because of the Covid-19 pandemic, and they are trying to avoid visiting healthcare facilities as most as they can.
Your patients are also looking for cleanness and sterilization in the dental clinic, so you can show your efforts in presenting a well-sterilized clinic and dental tools.
Testimonials of your current patients These positive experiences are the cornerstone of the continued spread among potential patients.
The experiences of successful former patients are the strongest catalyst for potential patients to book an appointment with you.
This section can also include pictures before and after the installation of braces for a patient, and images of the teeth of female patients with transparent braces to remove fear in women from the poor shape of the braces.
It also includes pictures of dental implants, how the jaw was before and after fitting, and pictures of yellow teeth and how they became bright white after the teeth whitening procedure.
Dental Blog which is considered one of the most important sections in your website, is where you will publish your own articles about dental-related topics, this blog can boost your website in search engines and help you in search engine optimization which is discussed in the following point.
Contact Us Page in which you leave all your contact information including address with a google maps location, phone number, E-mail, and working hours of your dental clinic. Through this page, people can reach you easily using the relevant contact way they like.
Dental Clinic Marketing with Local SEO: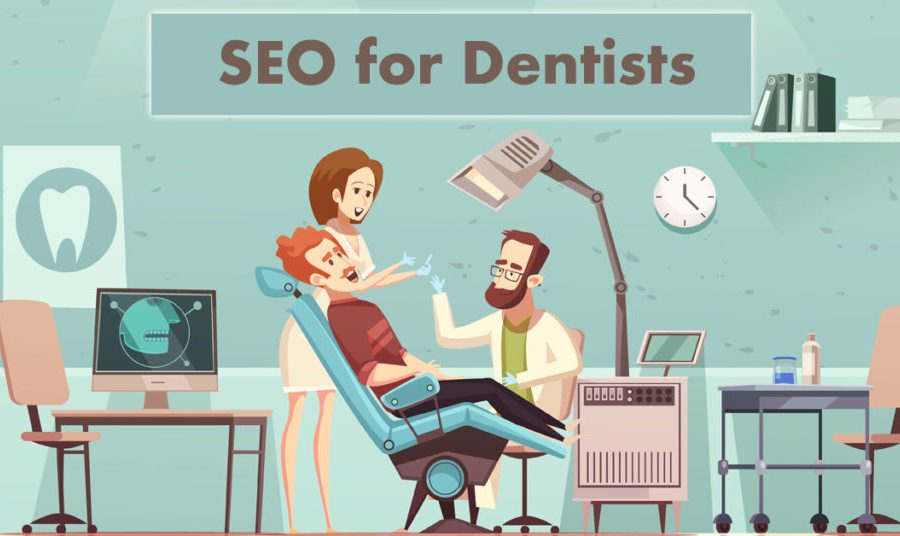 It is necessary to optimize search engines like Google, Bing, and many others for various keywords related to dentistry.
Appearing on this first page of search engines in the keywords associated with your site is the most important factor in bringing more patients to your clinic.
Targeting local keywords is very important when it comes to SEO, as you are providing a local service for your surrounding zone, include your city in the targeted keyword.
If your clinic is in Cairo, that means you should strive to appear in search results related to Cairo, for example:
Dentists in Cairo instead of just dentists.
The best dentist in Cairo instead of the best dentist.
Dental braces in Cairo.
Teeth implants in Cairo.
Using blogs and content marketing strategy will be very helpful in your ranking in search engines, presenting your targeted keywords in valuable articles would make you advance in search results.
Also using a well-designed and search engine optimized website will help a lot in ranking on the first page of Google, so you should consider investing in this area very well.
Motion Graphics Videos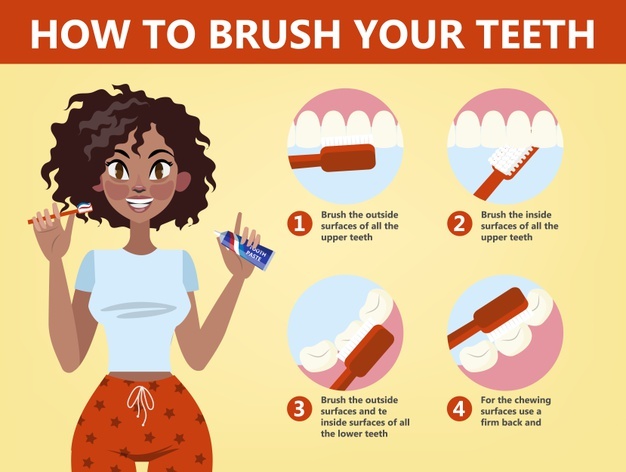 Videos in which you appear in person help potential patients get to know you more, correlate between their primary perception and your true personality, and increase their affiliation and loyalty of your former patients.
While motion graphic videos are one of the latest and best methods of modern digital marketing that achieve viral spread, because of the pleasure of watching scientific materials in the form of animation, and the ability to explain all complex processes in a simple way through them.
Motion graphics also contribute to removing the terrifying mental perception among children of dentists, and children represent a large part of dental clinic patients.
You can provide motion graphics videos to explain one of the dental implants, or warn about the damages of candy on the teeth and show their impact.
Search Engine Marketing Campaigns for Dental Clinics
Google Ads is a powerful and highly effective dental clinic marketing strategy if used correctly. You should target surrounding geographical locations, think about what differentiates you from other dentists, who will look for you, and base your keywords accordingly.
As a dentist, you should definitely work on keywords related to your specialty, such as:
Best dentist in (and remember your city)
dentist to treat caries in (your city)
Teeth bleaching in (your city)
Teeth braces in (your city)
Teeth implants (your city)
And similar words related to your specialty and services you provide in the dental clinic a service associated with it.
You should also improve your ad scheduling. Google Ads service allows you to choose when to show your advertisement, choose the times when your clinic is open to receive patient calls and inquiries.
Also, you can choose to serve only call ads, which are a special type of ads. Readers can click on the advertisement and contact your clinic directly without having to go to your website or any other website on the Internet.
Marketing Dental Clinic Using the Referral Reward System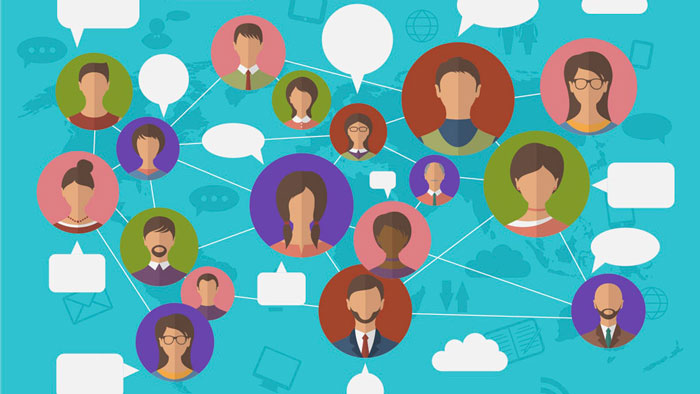 For your dental clinic to remain successful, at least 70% of your new patients must be referred to you from your old patients.
However, your current patients do not realize the importance of these referrals to you and the growth of your business, so you should encourage them to remember your name and tell others about you frequently.
They can be encouraged to do so by offering a broad referral reward program, the content of which is a special discount or a prestigious dental care product for your current patient for every new patient who comes to you with a referral.
The benefit of this system is not only limited to acquiring new patients, it also keeps you in touch with your current patients and strengthening the relationship with them.
All you have to do is hand out small referral cards to your patients.
The Use of Experts in Marketing the Dental Clinic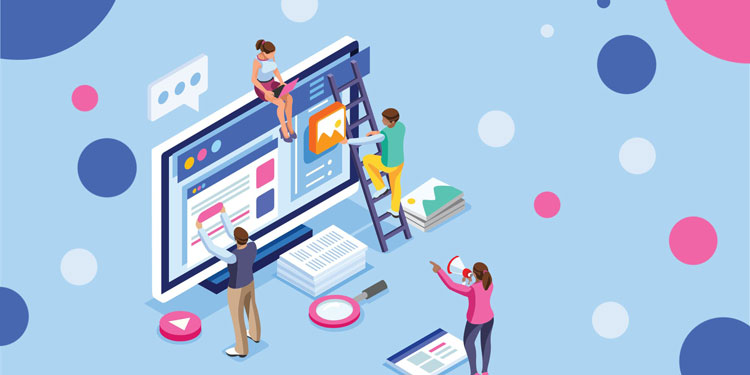 Of course, you knew that marketing a dental clinic successfully requires a lot of effort and time, unless you know it yet that it also requires extensive experience in marketing in general and digital marketing for dental clinics in particular.
For this purpose, we recommend that you avoid the losses of unsuccessful marketing campaigns by seeking the assistance of experts, you can hire a marketing manager or a digital marketing agency that has the necessary marketing experience in the medical field.
Conclusion
Your success as a dentist has become dependent on your marketing activities, specially if you are opening a new clinic and no one still knows you.
Choosing the right marketing strategy will help you gain more customers and increase the retention rate of your existing customers.
There are a lot of marketing strategies but you have to choose the right strategy or a mix of multiple strategies based on your analysis of your business as mentioned in the article.
Using digital marketing has been crucial specially after the Covid-19 pandemic, as people would prefer to search for reviews about the dentist and make sure that the dental clinic is following the precautions and preventive measures.
Use an integrated dental clinic marketing strategy that guarantees a strong presence in the digital world including search engines, social media, paid advertising campaigns.
Please don't forget to share your thoughts and best with HBC in the comments and let us know what is working with you in the different strategies for marketing your dental clinic in an efficient way. If you have valuable content to share on Healthcare Business Club you can publish your content for free, please don't hesitate to contact us at any time.
Thanks for your time!