What is medical coding a common question in the scientific community and among medical students and everyone interested in the field of health, and medical coding is one of the branches of medical informatics that combines medicine, computer science, and artificial intelligence, and aims to improve and develop healthcare service in all countries of the world regardless of the level of its development, In this article, we will answer this question
In order to know what medical coding is, or what is called "programmed clinical coding," it is a system for managing health information that is dealt with in the health system at all levels, whether local, national, as well as international.
Are You Ready for a Complete Tour About Medical Coding?
Let's dig more about medical coding and a lot of information that you might be interested in if you are searching for that topic, it's an interesting topic that you would like to learn more about.
Medical coding where the medical information technician collects and archives medical data in the hospital and encodes it, and the medical coding reformer is the medical term that is being searched for in order to know as much information about the coding process and the brief information it includes related to medical aspects, and in this article, the question will be answered. , What is medical coding, what are its types, benefits, and future, and clarification of much other information related to it in detail.
What is Medical Coding?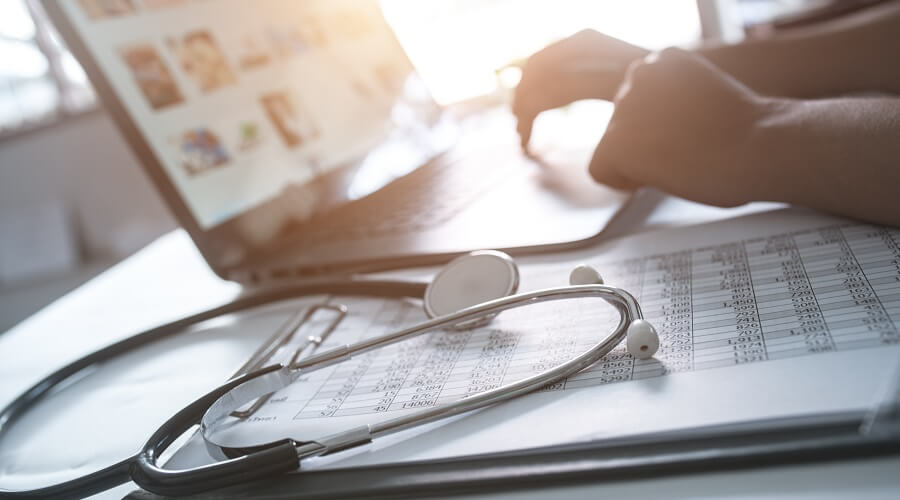 What is medical coding and what are its types, benefits, and future? Medical coding is the process of converting names or medical terms for diseases and surgical or medical procedures that patients undergo into numeric and literal codes; Through the review and analysis of the patient's medical record by specialists in this field, as well as the definition of pharmaceutical preparations and medical tools in the various branches of medicine.
The coding process is carried out through the use of the International Classification of Diseases issued by the World Health Organization, and the eleventh version (ICD-11) is the modern version of this classification, and some countries have modified this version to suit their research and statistical needs according to demographic characteristics and the nature of diseases prevalent among members of their communities.
Medical coding helps in facilitating the classification of diseases and health problems and ways to treat them, which helps decision-makers at all levels of the health sector to take appropriate decisions based on accurate data and statistics.

What Are the Benefits of Medical Coding?
Medical coding facilitates the process of classifying diseases and health problems and their treatment methods, which helps decision-makers at all levels in the health sector to take appropriate decisions based on accurate data and statistics.
Below we named some of the benefits of medical coding for the healthcare sector
Standardization
Writing in the medical file is always in English and using medical terminology.
Many diseases have more than one name! The presence of several names for a particular disease makes it very difficult to count the number of patients affected by it.
The use of medical coding in this case makes inventorying possible.
A heart attack or stroke is written in more than one way in the medical file. Medical coding Inventory all the nomenclature and put them under a specific medical code.
Uniformity of Data
Medical coding helps insurance companies to use a specific code for the purposes used or the medical procedures that take place during the insured's visit, in order to facilitate the interaction between insurance companies and the healthcare facility!
Reimbursement
Medical codes are used in the matter of compensation or payment for the costs of operations or medical examinations.
Example: When a doctor examines a patient and writes the name of the diagnosis. The medical coder converts the medical diagnosis into agreed codes, and then sends a specific form that carries the medical codes to the insurance company, which in turn reviews the codes and makes sure that the codes are correct, and then pays or compensates the patient.
Evaluation of Care
Medical coding helps healthcare facilities to provide their services better. Example: The presence of coding helps the operations departments to know the most procedures in implementation and then coordinate their efforts and work to keep pace with the needs.
Audits & Statistics
Medical coding is used to facilitate the conduct of internal and external statistics in healthcare facilities.
An example of an external statistic is to know the number of patients received by the healthcare facility due to accidents or due to injuries related to work procedures.
An example of internal statistics is the use of medical coding to know the number of patients who have been treated because of medical errors, or because of an injury or diagnosis that occurred during his admission to the hospital.
Internal or external statistics are often sent to government authorities such as the Ministry of Health or private health organizations that are interested in developing the performance of health centers or hospitals.
For example, here is an example of one of the medical codes used to find out the number of people who died due to diabetes between the years 1999-2007 on the link for more accurate information about each medical code
Clinical Research
Medical coding helps complete medical and clinical research. Example: When a doctor is interested in conducting specific research on diabetic patients, he communicates with the medical coder, who in turn searches for the diabetes code and then communicates with the doctor wishing to conduct the research.
Better Reporting
Medical coding helps the Ministry of Health, for example, to know the causes of deaths in every healthcare facility.
Efficient Marketing
Medical coding helps health organizations better market their services. For example, Medical coding helps the Ministry of Health to know the areas in which kidney failure patients are frequent.
This information helps the ministry to spread according to need, not diligence. Medical coding also helps the Ministry of Health to know the most prevalent diseases and then conduct educational awareness campaigns for patients.
Other Benefits
There are multiple benefits of medical coding which are:
Setting health priorities
Keep track of common causes of death in the community.
Strengthening health statistics according to international standards.
Measuring health performance.
Assessment of the quality of care provided and health outcomes.
Supporting the research movement in the medical field and defining its priorities.
Forming a scientific and professional basis for medical accounts and health spending.
---
Read Also: Healthcare Revenue Cycle Management (RCM) Important Approach That Hospitals Should Follow
Read Also: Revenue Cycle Management Healthcare Challenges
Read Also: 6 Powerful Pricing Strategies Used in Healthcare
Read Also: Key Performance Indicators KPIs, a Great Tool to Drive your Hospital Success
---
The Objectives of Medical Coding
People, who are interested in the field of medicine and health often wonder what is medical coding and what is its purpose? Those in charge of medical coding seek to unify the medical information and data extracted from the medical file of each patient, and it also aims to improve the quality of care, and to provide a database that helps in the development of the medical field and scientific research.
What are the Uses of Medical Coding?
Medical coding is used in the following areas:
Health Services Planning
Resource allocation
Healthcare Management
Clinical Standards Establishment
health statistics
Epidemiological studies
Education and Scientific Research
Clinical Research
Financing, repayment, and auditing
Revenue cycle management
Medical Coding Process Steps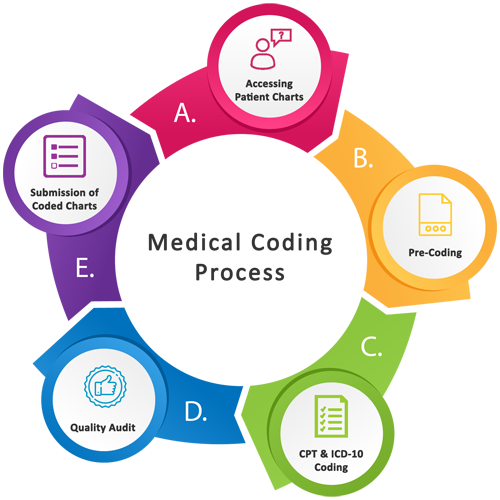 1- The medical coder should review the clinical documentation even in paper format or electronic health records and write an abstract about the case.
2- Ask for any missing or unclear information if necessary, sometimes the clinical documents and records might not be clear enough or missing some vital information that will contribute to the quality of coding, in that case you should refer the meant physician and ask about the missing information.
3- Start coding the diagnosis mentioned in the clinical documentation (Usually ICD Codes) and make sure that you are giving the relevant code of the diagnosis as this is very important when submitting the claim to the payer.
4- Start coding the procedures and any examinations performed for the patient, where this should be most accurate as it will be compared to the Diagnosis code to check if performing this procedure was relevant to the case.
5- Confirmation of the compliance between the diagnosis codes and procedures code to assure that the necessary medical procedures for that case was performed and provide the proper justification of why these medical procedures were performed because it will be an important part when it comes to the claim submission to the payer for reimbursements.
6- Double check the written codes again to ensure that precise and accurate information is written that guarantees the integrity of your code.
Some Types of International Standards of Medical Coding
Medical coding includes many classifications, which are well-known international coding systems that use a numeric or alphanumeric coding system, including the following:
International Coding for Primary Care (ICPC-2)
International Coding for Primary Care (ICPC-2): It is a global coding system for primary care that was established in 1987 in the United Kingdom and consists of 17 chapters.
The French Common Classification of Procedures (CCAM)
French common classification of Clinical Procedures (CCAM): A medical classification used in hospitals and health clinics, consisting of four letters and three numbers, each of which stands for specific health information.
Healthcare Common Procedure Coding System (HCPCS)
Healthcare Common Procedure Coding System (HCPCS) codes refer to the coding and conversion of public healthcare procedures into codes, and these codes are usually responsible for ambulances, health insurance programs, medical equipment, and some drugs and it is derived from the American Medical Association Codes.
International Classification of Diseases (ICD)
International Classification of Diseases (ICD) is a global coding system created by the World Health Organization, It first appeared in the 1940s, and has been updated more than once, and this symbol helps provide a standardized vocabulary used to describe a patient's pathology until his death.
It consists of various versions including ICD6 that was the first version, till ICD-11 which is the latest version of (ICD).
Current Procedural Terminology (CPT) Codes
The current procedural terminology codes or (CPT) codes are used to monitor medical procedures being performed, and they relate to the major medical fields of surgery, laboratory and pathology, and deal with emerging medical technology.
Medical Coding Jobs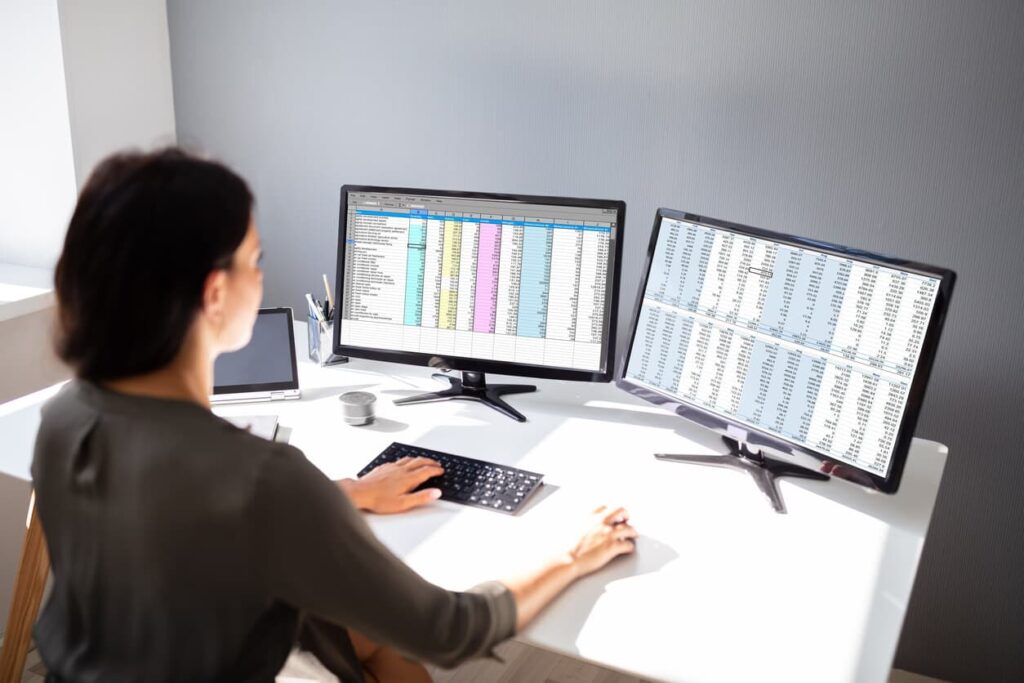 Now we have come to an important section of this article, which is interesting for everyone who is looking for medical coding career and the future for this job, below we will answer a lot of the questions that might pass by your mind.
What is the Medical Coder Job?
Medical coders are the people who are responsible for the medical coding process in the healthcare facility, his main job is to read and understand medical reports in a patient's health record, such as patient demographics, underlying and associated disease diagnoses, diagnostic tests, and treatment plans, with the aim of identifying medical codes that describe a patient's condition, as well as their clinical experiences in a highly accurate and standardized manner.
What Does a Medical Coder Do?
The medical encoder follows specific and organized steps in coding patients' health information, which are:
Read and summarize the information in each patient's medical file in a systematic and accurate manner.
Specify appropriate and special symbols according to the international standard followed.
Entering and digitizing information in the database and archiving it.
Skills Needed For a Medical Coding Career
If a person wants to become a professional in medical coding, they will need some basic characteristics and skills, including:
Knowledge of basic computer skills and knowledge of computer use and specialized software.
Confidentiality and integrity are also essential to success in this profession, as a person will handle personal information of patients.
Accuracy is key to this profession, as omissions or small mistakes lead to delays or rejection of applications.
A medical coder will need to think analytically, because his ability to analyze all factors is essential.
Knowledge of many medical sciences and terminology, and may be necessary to be successful in this profession to understand diagnosis and treatment in order to correctly encode items.
Medical Coding Salaries
The average salary for a medical coder is around $54,890 per year, and without an industry degree he can earn $42,205 per year. The beginning of life to gain more experiences and new knowledge.
Benefits of Online Training
Among the benefits of online training are:
Through training courses, a person is ready to work in 6 months without long university studies.
These online courses can offer the highest success rates.
Online training can allow flexibility in learning depending on routine whether at home or in the office.
Expert and certified online trainers can help you learn effective working methods in the field.
Taking a whole range of courses with it online will enhance a person's career in this field.
Practicing it online offers better values ​​and opportunities with optimal employment and earning potential.

One of the professional online academies that provides online courses for medical coding is Hfaculty, which is an online academy specialized in healthcare sciences and courses.
The future of Medical Coding Jobs
In the future, medical coders will have golden opportunities, as in healthcare, they are actively looking for well-trained professionals with deep knowledge of the profession, and those who work in it play an important role not only in the operational side of the healthcare industry, but carefully handling claims they also symbolize it.
Now most of the work in this field is done on a computer, and some employers offer the option of working remotely.
The Conclusion
Medical Coding or Programmed Clinical Coding is the health information management system used by local, national and international health institutions and agencies. It is standardized medical symbols, abbreviations and terms used to diagnose and describe patients' conditions as well as to identify pharmaceuticals and medical devices in various branches of medicine. The medical coder analyzes, processes, and translates the medical information in the patient's medical record from alphabetic codes to standardized digital codes, and it is one of the most promising and high-demand professions in all countries of the world.
Medical coding is used to divide and classify diseases and epidemics and standardize them internationally for the exchange of experiences and the search for treatments and medicines and is used to store health information about each patient that can be retrieved in the event of resorting to foreign intervention or in the event of the patient returning to the hospital, and it is also used in medical statistics By determining the rates of deaths, births, epidemics and the most common diseases in a single country or in the world.
In the summary of the article, it can be said that the answer to what is medical coding is that it encodes all data and information about medical and health procedures for patients and converts them into digital reports within international standards.
If you liked this article, please don't forget to share your thoughts and best with HBC in the comments and let us know your opinion about what is medical coding and the available information about its jobs. If you have valuable content to share on Healthcare Business Club you can publish your content for free and share your knowledge with all healthcare business professionals, send your articles to the HBC editorial team on [email protected] please don't hesitate to contact us at any time.