Having effective pharmaceutical inventory management is an essential but complex process. Without good practices, healthcare industries may face threats of not being able to give their patients the most suitable medication necessary for their illnesses. On the other hand, ensuring the efficiency of this system protects the customers from inadequate supply issues.
As patients need medication on time, pharmacy retail decision makers must prioritize creating a well-organised inventory management system. Once they do so, they can benefit from becoming more focused on streamlining their pharmacy product range, allowing them to improve their stock organisation while maintaining lower warehouse expenses. In addition, modernising their systems will also enable them to monitor orders, selling, finances, and delivery data so they can predict the actual demand for products based on historical input.
Because having an effective retail pharmacy inventory management system is essential, you must consider following these five strategies.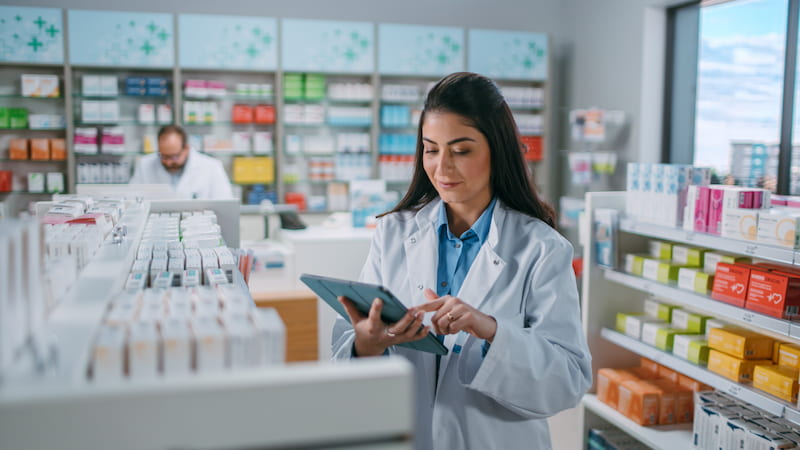 Conduct An Inventory Assessment 
Before improving your pharmacy's inventory management system, you must conduct an in-depth inventory analysis. This activity allows you to identify the exact amount of stock you have on hand so that you can fill the demand while avoiding spending too much on warehouse storage. After ensuring the success of this process, your pharmaceutical business will be able to understand your inventory levels and stock enough supplies while eliminating frequent stockouts and improving operations. 
To determine the amount of medicinal inventory, you must collect your pharmaceutical organisation's most recent balance sheet to locate your sales revenue. After gathering this vital information, you have to calculate the number of inventories purchases you make in the current period and add the outcome to your starting inventory. Once you do so, you must identify your mark-up percentage and apply it to the remaining items you have on hand, which will be the estimated retail value of your pharmaceutical inventory.
Get Rid Of Outdated Inventory
Due to chemical structure changes, expired pharmacy products might be less effective and risky. These products are at risk of sub-potent antibiotics and bacterial growth that will fail to treat specific infections and lead to antibiotic resistance and severe illnesses. Therefore, there's no guarantee that the medicine will be safe once the expiration date has passed, so medical professionals should never sell it. 
As you declutter your warehouse from obsolete inventory, you should thoroughly examine the medicine's label and strictly follow any specific disposal instructions. After getting rid of these expired medicinal drugs, you should prevent your pharmaceutical staff from ordering more than necessary, so you have to check the demand for each product regularly. Then you must incorporate proper storage practices like storing them in the refrigerator to ensure that your medicines will remain effective and safe up to their expiration date.
Monitor Stock Levels 
The primary purpose of inventory management is to eliminate unnecessary expenses and enhance operational efficiencies. You must gain complete visibility into their current inventory to ensure its success. Once so, you can eliminate the guesswork in implementing ideal supply levels to prevent understocking and overstocking medicinal items.
To accurately monitor the stock levels of medical supplies, pharmaceutical leaders need to consider incorporating cognitive automation to allow them to manage safety stock more efficiently. During this digital transformation process, you'll leverage emerging technologies like machine learning and artificial intelligence (AI) that use real-time information tracking and internet-scale computer power in the cloud. As a result, you can make more informed decisions in correcting an issue within your inventory systems before these become unmanageable. 
Improve Communication 
Successful inventory management systems in retail industries rely on effective communication. Without this vital element, wholesalers cannot consistently deliver replacement medicinal products to these pharmaceutical stores. As a result, patients will have to consider seeking assistance from nearby competing businesses, which might affect your market share in the retail healthcare industry.
You must use an innovative messaging line to improve communication between your pharmaceutical warehouse staff and other supply chain partners. As you use this advanced tool, you must ensure to convey all necessary supply requests and accurate supply requirements before the deadline. Once you do so, you can have a seamless ordering process, avoiding potential errors with supplies and orders so that you consistently deliver the needs of your loyal customers.
Control High-Risk Medicine  
High-risk medications are primarily expensive and have a shorter shelf life. These aren't frequently in high demand in the pharmaceutical market, so healthcare leaders must do their best to organise the inventory of these items.
To effectively control high-risk medicine, you must use distinctive lettering and avoid storing it in matrix drawers to prevent confusion with other medications. After that, you must use the next-day shipping services of local healthcare wholesalers to prevent your pharmaceutical business from keeping expired items.
Key Takeaway  
As a pharmaceutical business owner, you must ensure that you can effectively monitor the medicinal products within your store. Thus, you must consider these five strategies to improve your pharmacy's inventory management. With these tactics, you can keep the correct number of stocks within your warehouse while reducing the possibility of keeping expired goods.
---
Read Also