This article is talking about a very interesting yet important topic, it's the Internet of Medical Things or (IOMT), this is not a new topic in healthcare, but actually, it's one of the hottest topics especially after Covid-19 pandemic.
Because of the continuous evolving of the hardware and software technologies and almost everything will be enabled with connectivity through multiple ways like the internet, Wi-Fi, Bluetooth, infrared,…etc., we are witnessing a massive increase in using IoT and connect more devices together.
IOMT is going to transform everything regarding health and will be a main player in the next decade of technology development. We will define internet of things and its applications in healthcare so we can have a deeper understanding of the potential of this technology and how we can use it to fight the new challenges in healthcare.

What is the Internet of Things technology?
The Internet of Things technology is not a specific product or system that a company will produce and it will be sold to millions of users. The Internet of Things is a new concept that relies on the use of the Internet to facilitate the way we live and manage our business,
so you will not find a single company that controls this market, but by taking the current data, the largest companies Global competing over the Internet of Things, which has become an icon of business development in technology companies seeking to maximize their revenues, companies compete in multiple fields in the world of the Internet of Things, from fitness and health devices to agricultural equipment, infrastructure and building smart cities, to the production of self-driving cars. And drones.
The Internet of Things can be defined as a technical concept that expresses the idea of the various electronic devices being connected to the Internet and thus each device can identify itself and interconnect with the rest of the other devices with each other, and it is referred to as an acronym (IoT), which is a virtual network that connects electronics, software, sensors, and motors so that the communication between them is via the Internet or WiFi technology, which makes these tools able to interconnect and exchange data among them.
Internet of things in healthcare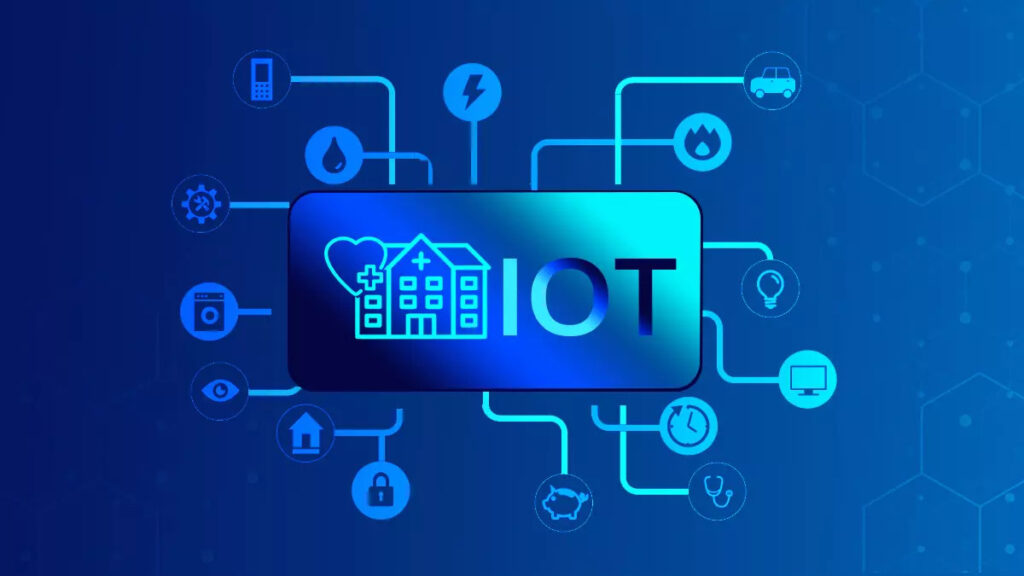 The Internet of Things has gradually begun to gain a foothold among physicians and patients. Ultrasounds, thermometers, blood glucose monitors, electrocardiograms, and other devices are connected so that patients can pay close attention to their health. This is very important in situations that require follow-up or a visit to the physician.
Here we came to an important question, can the Internet of Things truly improve patient care and the whole healthcare industry? In fact, the potential use of IOMT technology in the healthcare sector is very big and beneficial.
---
Read Also: What is Virtual Healthcare?
Read Also: Infographic: Discover the Top 6 Innovations that Transformed Healthcare?
Read Also: Robotic Surgery: History, Advantages, Disadvantages and Applications
---
IoT technologies in the field of healthcare have contributed to improving daily work in hospitals, especially in patient care.
The number of devices that are connected with IoT was 22 billion devices in 2018, and it's forecasted to reach 38.6 billion devices in 2025, and by 2030 it will be almost 50 billion devices.
IOMT market is a very big market worldwide and it's expected to rapidly grow in this decade, the Global (IoMT) market is expected to have a CAGR of 38.67% in the upcoming 5 years, also the expected market size of IOMT till 2025 is $ 543 Billion and the global healthcare is expected to save around $ 63 Billion by the end of 2022.
Although the rapid growth of IOMT market but around 49% of physicians still believe that using IOMT is not reliable yet.
The "Internet of Things" connects any device to another device over the Internet, forming a gigantic network of connected "things", which includes interconnected relationships between people themselves or between people and things and between things to things.
This integration of medical devices and the availability of data sharing possibilities have had an important role in maintaining patient safety and health, as well as improving how doctors provide care, enhancing patient participation and satisfaction by allowing patients to spend more time interacting with their doctors.
This technology can also be used to identify health problems, monitor patterns of heart rate, pulse, temperature, blood pressure, and sugar level in the body and digestive system, contribute to the diagnosis of health conditions and the possibility of sending information to the doctor for analysis and appropriate medical action. These connected devices take vital data in the body throughout the day to be transferred wirelessly to the doctor's devices such as computers and smartphones.
Applications of IOMT in Healthcare Industry
There are many applications for the Internet of Things in the medical field, namely:
Controlling smart sensors.
Transferring patient data from home to the clinic or hospital.
Integration of medical devices and the possibilities of exchanging data between them.
Improving the way doctors deliver care.
Enhancing patient participation and interaction with doctors.
Manage multiple connected devices.
The possibility of converting Internet of things data into procedures by doctors.
More accurate diagnosis of health problems and monitoring of patterns of heart rate, pulse, temperature, blood pressure and sugar level in the body and digestive system.
The possibility of sending the information to the doctor for analysis and appropriate medical action.
Connected devices take vital data in the body throughout the day and transfer wirelessly to doctor's devices such as computers and smartphones.
Cut medical expenses.
There is a tremendous potential for the healthcare system connected to the Internet and smart medical devices for the well-being of people in general as well, and research in this area indicates that the Internet of things in the field of healthcare will grow and have much higher potential in the coming years.
Conclusion
The healthcare sector has benefited from digital transformation and new technologies and is expected to rely more and more on "Internet of things" technologies in the coming years thanks to the presence of portable medical devices, applications and mobile health services that have contributed to drawing innovative features of the way to provide health care services. In addition, the spread of emerging technologies such as robotics and artificial intelligence, accompanied by the ease of exchange and spread of medical information thanks to the Internet, as well as the discovery of advanced methods of treatment.
This fundamental shift reflected positively on patient care, after it enabled the doctor to give a more accurate diagnosis and thus get better treatment results. This combination of the features of the Internet of things in medical devices has greatly contributed to improving the quality and effectiveness of medical service. Mobile devices, wireless networks, and other smart services are now penetrating more than 80% of health care institutions in the Middle East and Africa, which means that more than a third of hospitals, institutions and health centers have activated smart health devices.
Today, "Internet of things" technologies and digital devices connected to the Internet are prevalent in hospitals. It has come to the point where it can be said that many doctors, nurses and other health care providers have dispensed with paper and have become either totally or largely dependent on devices connected to Wi-Fi networks and tablets.
Please let us know your feedback in the comments below and your opinion about the future of healthcare with IOMT, if you are good at writing, don't forget to share your experience with us and write with us at HBC