The healthcare market is quite competitive. An ongoing stream of patients is essential to the success of any healthcare business or medical practice. There is a lot of effort required to manage a healthcare facility or practice.
If you're a healthcare provider whose top priority is taking care of patients, it can be tough to put energy into expanding your customer base and attracting new clients. Nowadays, the healthcare industry is one of the fastest-growing in the entire world. More individuals are visiting doctors and hospitals to maintain a healthy lifestyle as a result of the increased demand for healthcare.
For medical practices, an increase in patients seeking medical attention is welcome news. A rise in this pattern would spur fiercer rivalry between medical facilities and individual doctors. In today's crowded healthcare market, it takes more than just having a website to succeed in drawing in new clients.
People today are more inquisitive than ever before about a clinic's offerings, treatment methods, fees, etc., before deciding on a provider. It's crucial that you have plans in place to attract new patients. Need more patients but don't know how to get them?
A few easy strategies for expanding your healthcare company are outlined here.
1- Know Your Targeted Patients
Knowing who you should be aiming for in terms of new customers is essential before you begin marketing efforts. Simple demographic information, such as patients' sexes, ages, places of residence, and types of work, can help you determine this.
With this information at hand, you can create a name for your company that will resonate with your target demographic, as well as choose the best time and place to advertise your services and connect with potential new clients.
For example, if you are a paediatrician, you can write a blog on "ways to improve your child's health".
2- Focus On Branding
Constructing a trustworthy reputation among potential patients is the cornerstone of any successful healthcare advertising campaign. Your practice has to stand out from the crowd by establishing a name, logo, and colour scheme that conveys your values and principles to your ideal clients.
It may take some time to figure out how to set your practice apart from the competition. In the meanwhile, start thinking about what makes you unique; for example, do you offer a more family-friendly environment, a more upscale healthcare setting, or a more personalised approach to care?
Ensure that your logo appears on all of your promotional materials to maintain brand integrity.
3- Concentrate On Fundraising
Fundraising may not be necessary for all healthcare establishments, but for many, it is a significant source of income. A simple Google search can reveal countless effective healthcare fundraising ideas that can help you increase donations and broaden your outreach. To foster mutual support among local businesses, it's a good idea to give back to the community every once in a while.
4- Get More Clients by Word-Of-Mouth
A healthcare company can benefit greatly from word-of-mouth advertising. How do you manage to do that? The best way to expand your clientele is to provide excellent service to your current clientele and establish a recognisable brand. Also, focus on the importance of cleaning medical and healthcare facilities, as it will attract more clients.
If your patients are happy with your service and you treat them with respect, they will tell their friends about you. This means being honest about your prices and providing prompt, helpful responses to their questions.
5- Focus On Retention
It is a common practice for healthcare organisations to actively recruit new patients, with the expectation that these patients would continue to use the healthcare organization's services in the future. This may have been the case many years ago, but nowadays people have many options when it comes to seeking medical attention.
Patient satisfaction campaigns are essential to maintaining the high standard of care provided by hospitals in your network.
If a patient calls your engagement centre to schedule an appointment, for instance, agents should do so and then check the patient's profile to see if there are any upcoming events or services that could improve the patient's quality of life and ability to cope with their medical issues. By doing so, you'll make the patient feel important while also fostering faith that their health will be a top priority for your healthcare system.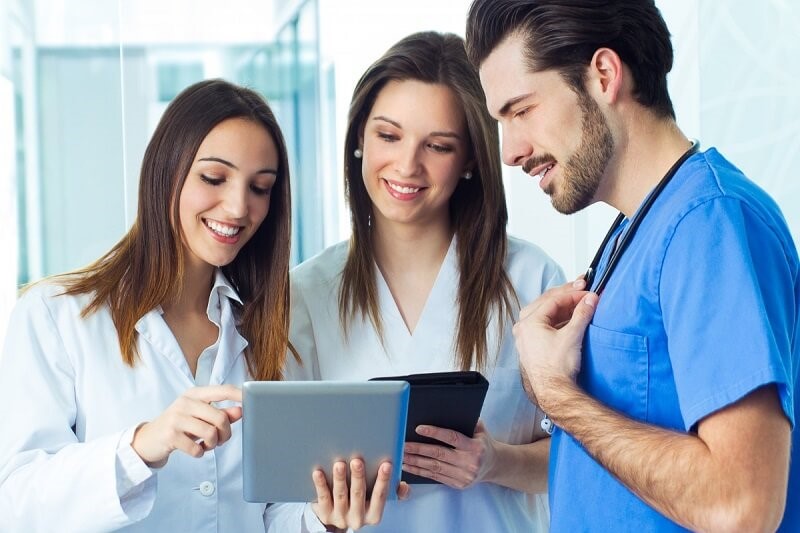 6- Be Active On Social Media
Promotion of a healthcare company to a wide audience might be facilitated by means of social media. Data analysis and targeted marketing efforts will help you quickly expand your customer base and reach the people who are actively seeking out your products and services.
Additionally, it's rapidly becoming one of the primary ways people interact with hospitals and clinics. Don't forget to routinely upload great content on your social media pages, since people will follow their healthcare providers on social platforms to keep up-to-date and get helpful information.
For instance, a naturopath can extensively post about what does a naturopath do, at regular intervals.
7- Encourage Reviews Online
Positive reviews establish your company's credibility and encourage new customers to work with you. They are a low-cost and very effective method of expanding your healthcare practice and finding new patients.
Have a system in place to contact recently seen patients and ask for feedback in the form of an online review. Having people leave reviews for your business in exchange for discounts or freebies is a good idea.
8- Use SEO to Your Benefit
More than a billion people worldwide use Google every day to research various health-related topics. They are interested in finding out more about their medical condition, its symptoms, treatment options, and more.
Getting in front of these people with trustworthy counsel and a recommendation to visit your health system will do more than bring in new customers; it will also help you treat patients in need more quickly.
9- Buy Pay-Per-Click (PPC) Advertising
When looking for information, patients often use search engines. People look to your social media accounts when they want to learn more about your morals. Patients who need immediate attention are more likely to click on pay-per-click ads.
Pay-per-click (PPC) advertising puts your business in front of interested customers quickly and efficiently, and you only have to pay for it if they click on your ad. Improving your cost-per-click through careful tweaking of your ad's targeting and copy will take a few hours of work from a committed expert each week.
Due to the high cost of maintaining a full-time PPC expert on staff, many healthcare organisations instead hire a third-party agency to handle the procurement and optimisation of PPC ads on their behalf.
In Conclusion
To keep a successful healthcare business running, it is essential to constantly expand your patient base and the range of services you offer. To assist you find out how to run your office more effectively, you may choose to use medical management services.
There needs to be an effort on the part of every healthcare provider to find new clients. Put these expansion strategies into play if you want to build a successful healthcare company.
Author Bio:
Hello everyone, I am Ariana Mortenson, a professional writer and blogger. I write on various niches in a way that it's understandable and appealing to the people. I aim to achieve a difference through my writing which allows you to make informed and valuable choices. Follow me back on Twitter, LinkedIn and Pinterest.
---
Read Also