women. There are numerous health benefits for pregnant women who strive to stay active. Pregnant women who exercise regularly or engage in physical activities are more likely to have better moods and weight control. Being active decreases their risk of experiencing pregnancy-related complications, especially during labor and childbirth.
But even with these benefits, some women may still be hesitant to engage in physical activities. According to statistics, 60% of pregnant women don't engage in physical activity due to several reasons, such as:  
– Lack of interest in physical activity (45%)  
– Lack of energy (40%)  
– Lack of knowledge regarding proper exercises for pregnant women (34%)  
– Lack of time (27%)  
Unfortunately, being inactive during pregnancy can adversely affect one's health, such as a higher risk for preterm birth, preeclampsia, or maternal obesity.
How To Stay Active During Pregnancy? 
Even if you're not physically active prior to your pregnancy, it's not too late to switch to a more active lifestyle. As long as you have your doctor's signal to engage in physical activities, then you're good to start.
So, here are five ways to stay active during pregnancy to boost your and your baby's health.
1- Sign Up For Some Easy Organized Exercise 
If you weren't into physical exercises before your pregnancy, you must start slow to avoid straining your body. One way to introduce your pregnant body to some easy and organized activity is through Pilates. You can sign up for a class focusing on pre & post natal Pilates and be active with other pregnant women. Pre- and post-natal Pilates differ from regular Pilates. 
Prenatal Pilates aims to activate your transverse abdominals through pelvic floor and deep breathing exercises. Its purpose is to help pregnant mothers emotionally and physically prepare for labor and delivery. On the other hand, postnatal Pilates aims to promote recovery from pregnancy and childbirth. It helps increase blood flow and oxygenation to the affected or damaged muscles during labor and delivery.
Both pre-and post-natal Pilates exercises are low-impact and gentle, helping mothers prepare, heal, and build up their strength for childbirth up to recovery.
2- Walk Regularly  
Walking is a low-impact exercise suitable for all pregnant women in any trimester. You can easily fit this activity into any part of your day, such as:
– If you're taking public transportation, you can get off a few distances early and walk the rest on your way home. 
– For pet owners, take your dog for a walk each morning.  
– When you're at work, use your lunch breaks to walk to the nearest restaurant or shop from your office building. 
– If you work or live in a multi-story building, use the stairs and skip the elevator. 
Regular walks, especially during your last trimester, can help your baby achieve an optimal position in the uterus. Walking helps alleviate joint pains by strengthening your muscles. As you walk, you can take this time to stop and smell the flowers or inhale the fresh air if you're walking in the woods to promote mental wellness.
The CDC guidelines state that 150 minutes of walking each week, or 20 to 30 minutes, is enough to keep you active during pregnancy. As long as your doctor approves, you can walk as often as you desire.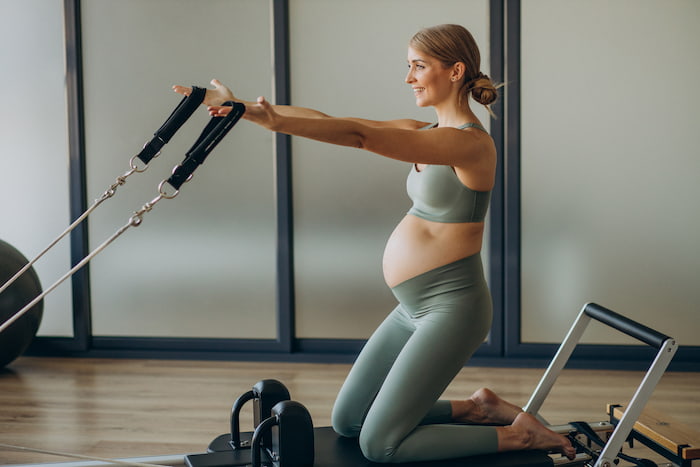 3- Exercise Your Arms 
After childbirth, you'll be carrying your baby every day for the next two to three years. And as part of your preparation, exercise your arms through everyday activities. Simple activities like mixing baking ingredients, folding clothes, and lifting shopping bags are enough ways to work out your arm muscles.
4- Do Some Gardening 
During pregnancy, your body will naturally undergo numerous changes, like weight gain, tender breasts, frequent tiredness, and hormonal changes. All these things can eventually affect your moods and potentially lead to stress and discomfort. Experts recommend pregnant women like you engage in or explore new hobbies to help manage stress and stay active.
One hobby you can do to help you stay active is gardening. Gardening involves various physical activities like digging soil, planting, lifting and arranging flower pots, and watering plants. These tasks will require you to use most of your body, strengthening your muscles and burning calories. Furthermore, gardening forces you to interact with nature and be exposed to Vitamin D, which helps you relax, keep your mind calm, and eventually boost your mental wellness.  
However, be careful not to go overboard with this hobby. As much as possible, avoid gardening tasks that could be too strenuous for you, such as pulling weeds or pushing overloaded wheelbarrows.
5- Do Housework With More Energy And Enthusiasm 
Housework may feel like tedious chores, but it can be an excellent exercise to keep you active at home. To make your chores less boring and more like an exercise, you can play music and sing along with the song. You can even incorporate easy dance steps while sweeping the floor, washing the dishes, or wiping surfaces. Ultimately, chores can be counted as physical activity, so it's up to you how you wish to make it more fun.
Wrapping Up 
Being active is crucial to maintaining your and your baby's health during pregnancy. The following tips above can help you get started living an active lifestyle. Don't forget to consult your midwife or doctor before engaging in any activity.
---
Read Also