Gone are the days when finding a good dentist was akin to winning the lottery. There was that extra challenge when only one dentist cared for the entire town. The waiting lists were long, and booking an appointment could've been extra challenging. Now, there are so many dental clinics to choose from. It's both good and bad, as it means you'll have to be more selective to ensure you wind up in the hands of an excellent dental clinic.
Choosing a dental clinic should be given the same weight of importance as you would do so when choosing a doctor. Oral health may only be a facet of your overall health, but it's not any less important. A good dental clinic like Ocean Dental, among the many, ticks all your preferences, so you're consistently happy with the dental staff services.  
Below are some of the most essential characteristics that makes an excellent dental clinic:
The Staff Are Experienced 
You should consider a dental clinic as one that offers top-notch quality services. Always check the qualifications of the dentists and even the dental assistants or dental hygienists. When they've been around for many years already, you'll feel more confident about working with them for your teeth.  
A good way to check experience and qualifications is to go through their credentials and diploma. At the very least, you'll want to be sure your dentist has graduated from a good dental school and passed the necessary licensing exams. On top of that, it's another plus if there are certificates to show that the dentist also undertook added training and certification to hone their skills further.
The Clinic Has High-Tech Devices And Facilities 
Technology is shaping many industries today, most especially the medical sector. A good dental clinic also comes equipped with those high-tech devices. It's to your advantage to have access to those, as the more advanced the dental technology used, the more precise the results may be. This is especially handy for highly specialized procedures that use dental imagery, so the dentist can see beyond what the naked eye can.
Moreover, having state-of-the-art devices can also help make procedures go faster and operate on a lesser downtime. It can also save you a lot of time and effort when you don't have to move from one dental clinic to another just because your chosen one doesn't have all the technology or equipment needed for your procedure.
The Trust Between Their Regular Clients Is Established 
Nowadays, it's very easy to establish whether or not a particular dental clinic is trusted and reputable. One of the best ways to do so is by checking online reviews on their website or social media. Go through the feedback and recommendations section to see honest insights. If there is any red flag, follow your gut instincts and move to another dental clinic instead.
The Atmosphere Is Welcoming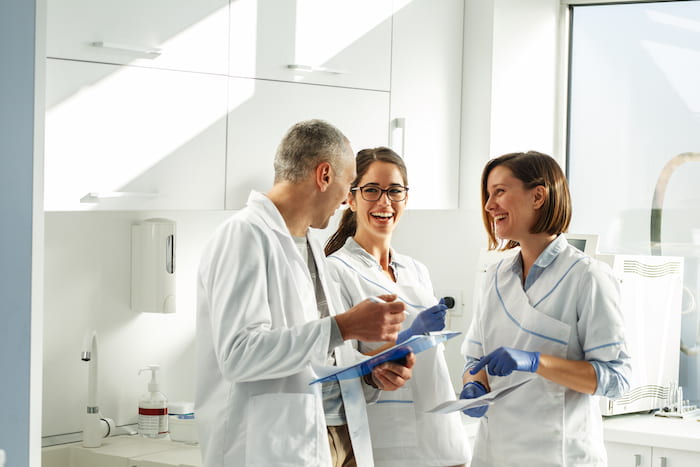 Observe how you feel as soon as you walk into a dental clinic. If it's not anything close to being welcoming, it's a sign for you to leave. It's normal to have anxiety and fears when going to a dentist, and the last thing you'll need is to face rude and unpleasant dental staff. Many dental clinics have mastered their hospitality, so if you can find that, why settle for less?
A dental clinic that goes above and beyond with its service treats its patients like extended family. They know what they want for their loved ones, and that's what they give their patients.
They Offer A Wide Range Of Services 
When a clinic is equipped with the latest equipment and technology, it follows too that they'll be able to offer a wider range of services than those that don't. The more services a dental clinic offers, the higher the convenience factor. It can make dental visits more efficient when everything you need is in one location.
You should check that the dental clinic has both general and cosmetic dentistry. The procedure turnaround time will be faster if you select a dental clinic with an in-house laboratory or imaging center.  
The Bottomline 
When you take in all the considerations above, the premise is that you can find a dental clinic you can trust. Taking good care of your health also involves being proactive about your oral health, which can only be achieved when you're in the care of experts. There may be many clinics to get by, but not all offer the same quality of service. It's up to you to ascertain and see that the clinic does live up to its word and promises. The checklist above isn't all-encompassing, as you'll have to factor in your personal preferences too.
Author
Eleanor Addison is an aspiring dentist. She's currently completing her last year in dentistry with her internship. And she's hoping to run her own dental clinic as soon as she gets the license. Having grown up with dentists for parents, she's passionate about changing her patients' lives, one oral health at a time.
---
Read Also