Are you looking for doctors who can give you online medical consultation through a video call, chat, or even a phone call ?
The occurrence of the Covid-19 pandemic imposed social distancing as a new concept in our society, and it is expected that the demand in UAE for remote medical consultations will increase, for fear of the physical attendance or crowding in clinics or health care institutions, which may increase the chances of infection with the novel Coronavirus.
Telemedicine is the best solution for achieving this goal, you can stay home and get medical consultation even in your bed, telemedicine is one of the successful healthcare delivery models.
According to the American medical association, 70% of the non-emergency or life-threatening cases can be handled remotely over a phone conversation.
Market trends revealed that there will be a significant growth in the telehealth market in the upcoming 5 years in multiple countries as one of the means to fight the Covid-19 pandemic.
People now want to go to healthcare facilities if they have to do that, otherwise it's more preferred to have health services through virtual visits using multiple communication technologies like phone calls, chatting or video calls.
The telemedicine services can include multiple specialties like chronic heart diseases, internal medicine, psychiatry, pediatrics and nutrition health services.
The following providers can provide telehealth services through different ways presented by categories, some of them are providing the services through mobile applications, others provide virtual visits through web portals and other can provide it through phone calls. The arrangement of all providers is not based on rating and just mentioned randomly.
Telehealth services through mobile applications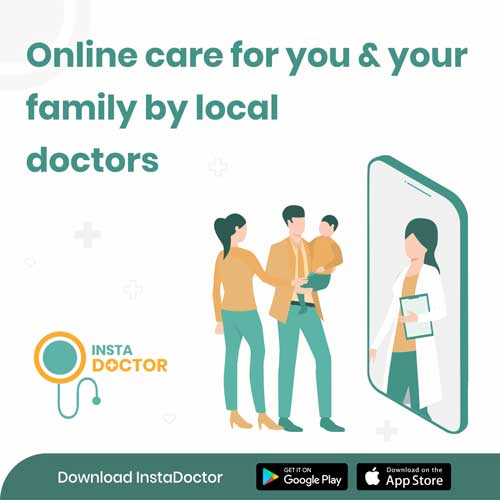 Instadoctor is an online market place for hospitals and physicians who would like to provide healthcare services online through video calls, it's a mobile app available on google play for android users and app store for ios users.
This app is designed mainly to provide online healthcare services using video calls between app users and certified physicians from nearby hospitals and laboratories, this app supports a wide range of medical specialties.
It provides more services like home-based visits and blood sample collection. their service starts at 300 AED.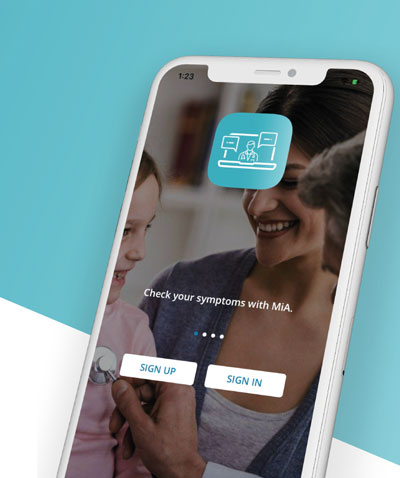 This is a mobile app launched by department of health Abu-dhabi which is available for all the community to get healthcare services at safely at home, this app supports the following functions:
Book online appointment.
Get online medical prescription.
Consultation via video calls, voice or text.
This app is available on google play for android users and app store for ios users.
One of the unique features in this app is using artificial intelligence tool that examines user's symptoms via live chat.
It can get information from user and it gives a primary report to the healthcare specialist to provide an overview about user's status for giving a quick feedback about the potential diagnosis.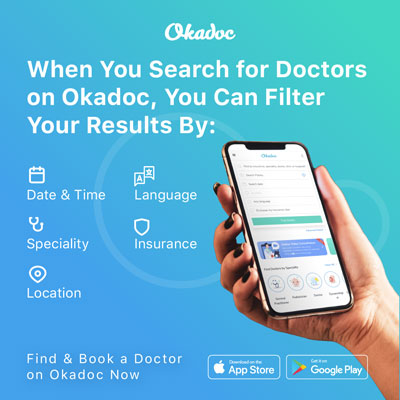 Okadoc is a healthcare app provided by a Dubai healthcare technology company which is launched the last year, this app provides teleconsultation services in multiple languages and patients can search for nearby hospitals, clinics, and standalone physicians who can provide the service, also this app allows physicians from multiple places and specialties to register and provide healthcare services online and increase their exposure and online presence. This app can connect patients to more than 400 physicians and 35 HQ healthcare providers.
Multiple specialties are supported like Family Medicine, Dental, Pediatrics, Allergy, Cardiology, Chiropractic, Dermatology, Gastroenterology, Ophthalmology, Psychiatry, and Urology.
This app is available on google play for android users and app store for ios users.
Okadoc supports multiple health insurance services like AXA, Neuron, Saico health, ADNIC, Next care, Daman, and MSH International, also a lot of medical specialties are supported through this app.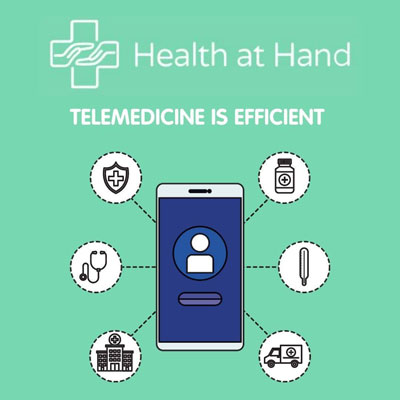 Health at hand is another model of telemedicine service via mobile apps to provide teleconsultation services through video calls, chat, get medical reports and prescriptions delivery to your home. This is one of the few providers which is licensed by Dubai Health Authority (DHA) and also HIPAA compliant, You can book an appointment online to meet a doctor online if you have symptoms like the one listed here, this app is available on google play for android users and app store for ios users.
What is different in this app that they support multiple pricing models for getting the service like pay per consultation or pay annually and family plans. They offer an individual plan at 300 AED per year instead of 600 AED, a family plan which includes 2 adults and 3 children at 500 AED per year instead of 1080 AED, or you can pay per consultation at the rate of 150 AED for one consultation.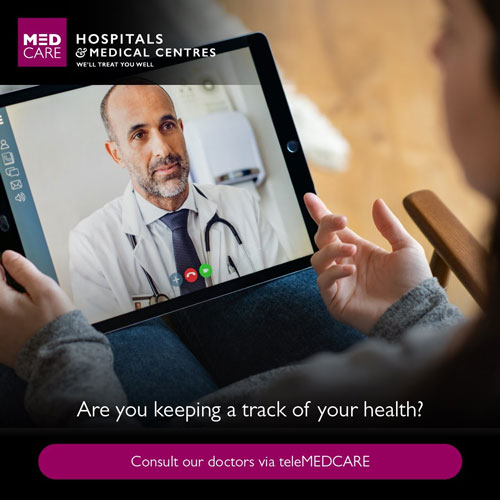 Medcare is one of the healthcare groups which provides its service in the Middle East, Philippines and India.
In UAE, it has 4 multispecialty hospitals, 4 specialty centers, 9 medical centers, and over 350 highly qualified doctors, it' also JCI accredited and presents home care and telemedicine services, you can get the service through video consultation using desktop or mobile app which can be downloaded by scanning QR code in this link, Medcare service is mostly the best for primary care and getting instant medical consultation, chronic disease management, mental health evaluations, and orthopedic consults. they support a lot of health insurers and the consultation fees depends on your medical insurance category and plan.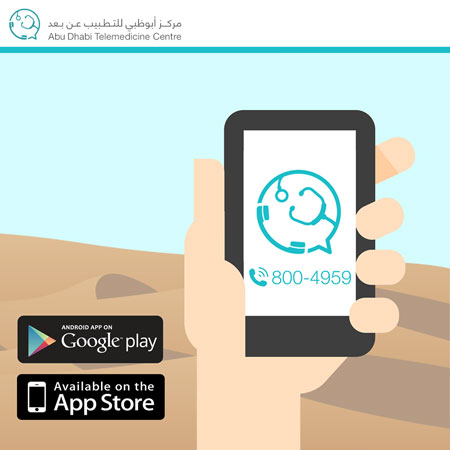 Abu Dhabi Telemedicine Centre is a joint venture between Abu Dhabi's Mubadala Investment Company and Switzerland's leading telemedicine provider, Medgate. this telemedicine center provides services to DAMAN or THEQA cardholders only, they use mobile app service only available on google play or app store, the service is suitable for any non-emergency situation or getting health advice from a doctor and primary care, it's also suitable for getting a second opinion from a doctor for a specific health situation.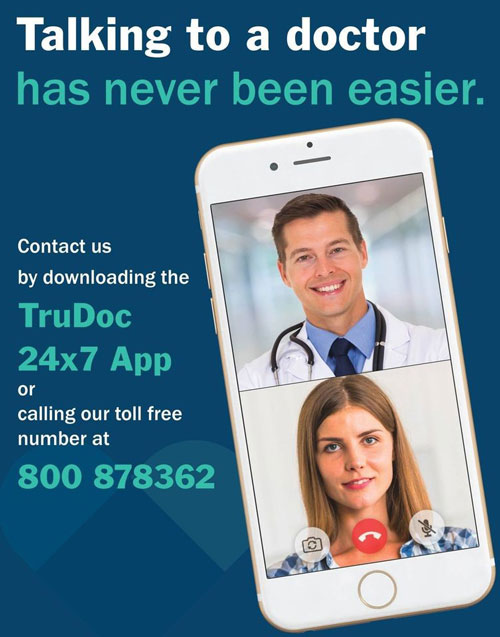 Trudoc is another innovative mobile app for getting health teleconsultation anywhere at any time of the day 365 days a year and supported in 4 languages (English, Arabuc, Hindi, Urdu). they support health insurance services but it's not declared on their website.
The service is available as a video call, chat or phone conversation through a mobile app which you can download the app from google play or app store, Trudoc handles non emergency situations including multiple specialties like respiratory, digestive, skin, Musculoskeletal, wellness, mental health, chronic disease management, genitourinary, ophthalmology, ENT and obstetrics.
Trudoc provides multiple plans for individuals and business packages, the individual package starts with 21$ on monthly basis, 45$ on quarterly basis, or 60$ on a yearly basis and you can get unlimited number of consultations across all packages, they also accept online payment through Visa or Mastercard for more convenience.
Telehealth services through web portals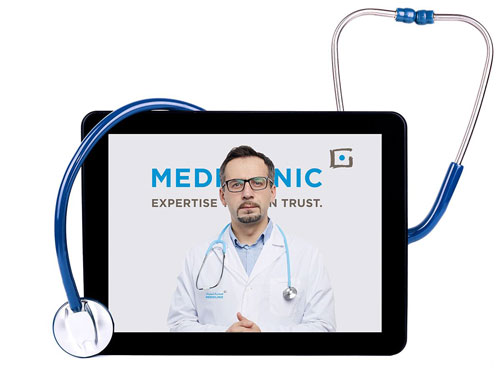 Mediclinic is one of the big sharers of the healthcare market in the Middle East which operates 7 hospitals, 20 clinics with a capacity of over 900 patient beds. It's a part of Mediclinic international which is a UK-based healthcare company that operates in Switzerland, the Southern African region, and UAE.
In 2020, Mediclinic launched telemedicine service in response to the Covid-19 pandemic to help people get healthcare consultation at home through video calls, Mediclinic supports on-demand service for family medicine and pre-booked service for other specialties.
It supports multiple insurance networks including DUBAI, Aafiya, Aetna, Almadallah, Axa, Dubai Insurance, Emirates, Government of Dubai Medical schemes (SAADA / ENAYA / DUBAI POLICE / DEWA), Mediclinic staff policy, Mednet, Metlife, MSH, NAS, Neuron, Nextcare, NGI (HealthNet), Oman Insurance, SAICO Health, ABU DHABI, Adnic, Aetna, Daman Basic, Daman Thiqa, Daman Enhanced, Dubai Insurance, and Mediclinic Staff Policy.
If you are one of Mediclinic's customers you can directly call 800 1999 (Dubai) or 800 2000 (Abu Dhabi and Al Ain) to book an appointment, but if you are a new customer you should fill this form before booking an appointment.
Healthcare facilities that provide telemedicine services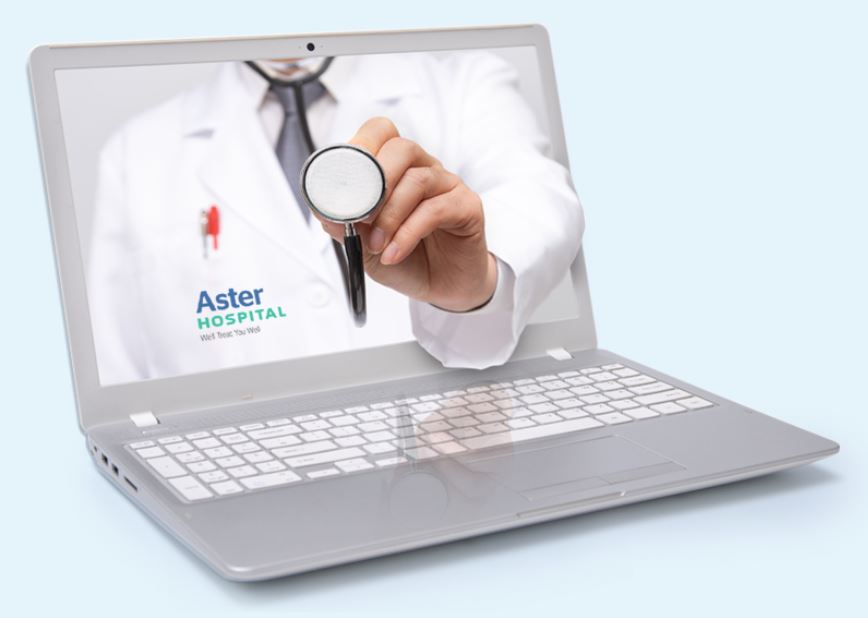 Aster is one of the biggest healthcare providers in UAE and they also extended their services globally, Aster has 4 hospitals in UAE including Mankhool, AL-Qusais, Jebel Ali, and Muhaisnah. They have a lot of healthcare establishments which is about 323 sites in 9 countries.
Aster supports teleconsultation services through Al-Mankhool and Al-Qusais branches and you can access their teleservices through video calls on laptop or smartphones.
They support multiple specialties for teleconsultation and also support multiple insurance entities like AAFIYA, ALICO, DUBAI INSURANCE, ECARE, NAS, NEURON, NGI (HEALTHNET), SYMPHONY, and FMC.

American hospital is one of the top healthcare service providers in Dubai that has multi-specialty, it's the first hospital in Dubai which got the JCI accreditation in the year 2000, this hospital started giving tele-health services since April 2020, you can start booking an appointment online through their website by visiting their website online, in the home page in the right down corner you will find an icon with the name (book your telehealth consultation).
This hospital is located in Dubai and has been founded in 2017 and its main objective is to provide patients top-quality healthcare services, ESH is JCI accredited and provides healthcare services for most of the medical specialties.

This hospital provides telemedicine services for almost all specialties, you can request their service via a phone call to book an appointment that will be confirmed with you through a nurse from the hospital, they will send you the link of the application to be used for the telehealth service, you can make your payment online and they support medical insurance as well.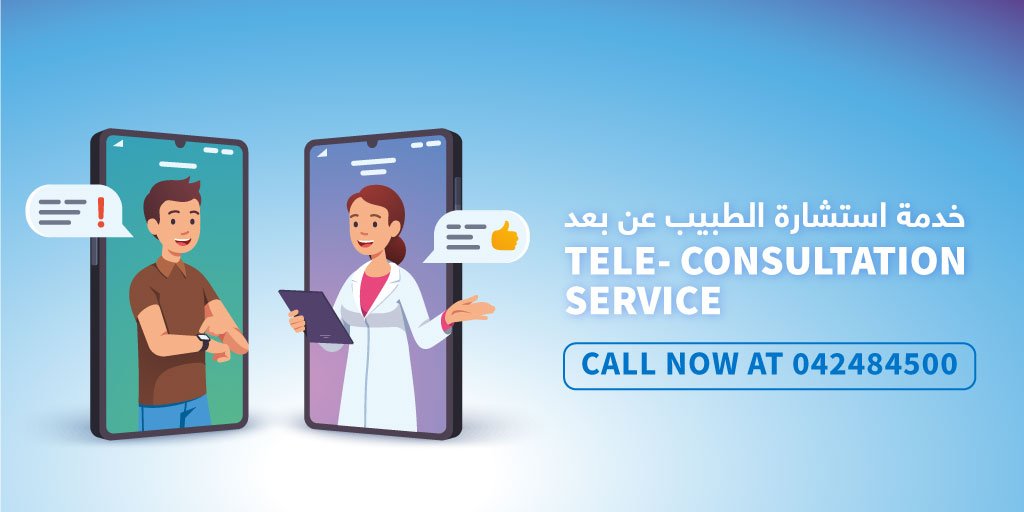 They also provide patient engagement application on smartphones that enables patients to learn more about the hospital and its services, schedule and manage an appointment, review the history of the past visits and check all the existing prescriptions and medical history and data that has been performed in the hospital.
The hospital is located in Dubai with a capacity of 100 beds, it's one of the JCI accredited hospitals, They provide telemedicine services for a lot of specialties includes Family Medicine, Pediatrics, ENT, Obstetrics & Gynecology, Orthopedics, Cardiology, Gastroenterology, Endocrinology, Pulmonology, Neurology, Internal Medicine, General Surgery, and Colorectal & Proctology.
The telemedicine service is supported online via laptop, tablet or mobile devices, also insurance is supported in telemedicine services by multiple entities like AXA, OMAN, Neuron, NAS, Metlife, Dubai INS, NGI Healthnet, MSH, Al Madallah, AETNA, and Emirates Airlines.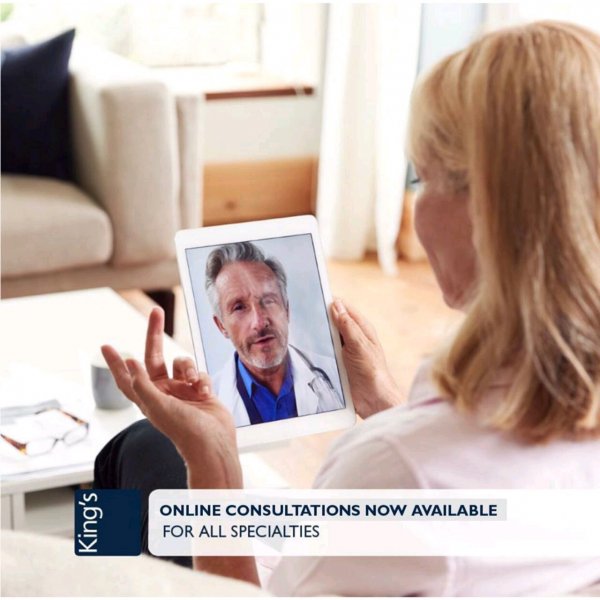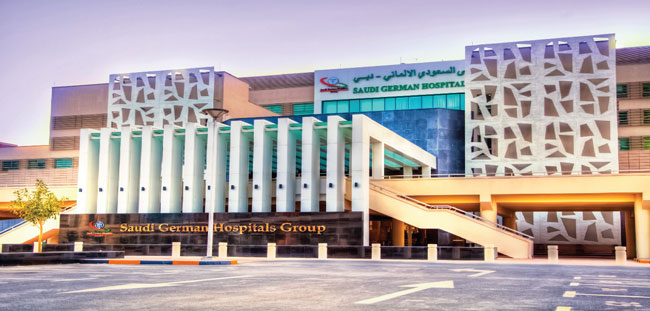 Saudi German Hospital (SGH) is one of the largest hospital groups in UAE and the middle east as well, SGH Dubai is a 300 beds hospital with almost all medical specialties that provide high-quality healthcare services, this hospital has a lot of accreditations including JCI, there are 3 more branches of SGH in UAE including Sharjah, Ajman and Jumeirah clinics. SGH supports telemedicine services through the web or smartphones. There is no much information mentioned on their website about the specialties included or whether they support insurers or not, but this can be known directly if you contact them through their mobile application or their website.