Virtual reality (VR) is already used in many areas. It has gained great importance in the field of medical education, and several educational institutions and universities have relied on virtual reality technology to simulate the human body and animals and perform surgeries, and it can also help new students face their fears.
How the use of virtual reality will affect the medical education system, the qualification of healthcare professionals, and the future of medicine. Can virtual reality revolutionize medical education? Will education using virtual reality be useful and inexpensive?
To answer these questions, we need to evaluate the actual use of virtual reality in medical education and whether it contributes to the development and improvement of education, and whether it can be applied on a larger scale in the future.
Thorny HIPAA and other legal issues also must be overcome. Healthcare and educational organizations interested in harnessing AI should consult an attorney experienced in the space.
Virtual Reality in Medical Education & Training
Many universities and research centers have used virtual reality technology to train students and healthcare professionals and increase their experience.
Certainly, this technology is much better than using two-dimensional images or videos, and it allows the possibility of seeing three-dimensional models of human bodies and other living organisms and anatomy these bodies and the internal organs in them, thus students are able to see the body clearly and know the internal processes that take place in it.
Not only that, interactive virtual reality also allows students to interact with the organs and tissues of the body well by interacting with virtual models of patients and seeing the anatomy of the organs accurately.

Pros of Using Virtual Reality Medical Education & Training
Students who learn using virtual reality technology can gain as much practical experience as possible without compromising patient safety, because all experiments, studies and surgeries are on virtual models.
It also allows the possibility of repeating experiments and surgeries sufficiently for students to gain the necessary experience, which contributes effectively to the improvement of their skills.
Thanks to virtual reality, students can also be entered into the same atmosphere of the virtual operating room to perform surgeries or first aid.
The most important aspect of this technology is to reduce financial costs, because students are taught in virtual operating rooms without the need for them to go to the hospital. It also obviates the need for real human organs.
It is also possible through virtual reality to overcome the problem of overcrowding in the operating room.
In traditional education, the operating room is very small and accommodates only a small number of students who attend and follow what is going on, and sometimes it is not possible to enter more than two or three students at the same time, but Through the virtual operating room, we can ensure that each student has enough virtual space for him to learn well.
Another advantage that is no less important than the previous ones is related to the safety and protection of students, as we know, operating rooms are a source of risk for infection and disease transmission, and real radiographic operations can lead to harm to the body.
From all of this, we conclude that teaching medical students and healthcare professionals with virtual reality technology offers high-value advantages, lower risks, and contributes to cost savings.
The Tools Students Need to Learn Using Virtual Reality
Anyone can be taught how to use virtual reality technology through the use of virtual reality glasses and the controller so that the students are within minutes inside the virtual operating room without the need to waste their time in dressing the operating rooms and going to the hospital.
Most of the modern virtual reality technologies that can be made available for medical education allow for a 360-degree viewing angle and high-resolution images that show every detail.
Interactive Virtual Reality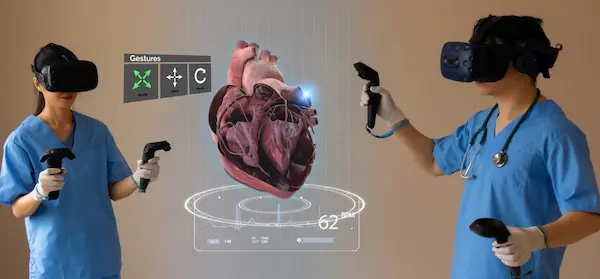 Teaching with interactive virtual reality means that students can be introduced into a virtual world where they can interact with what is in it.
This can include entering virtual operating rooms, taking care of virtual patients, and collaborating with others to perform surgeries or first aid just as it happens on the ground.
Currently, there are very advanced tools that support interactive virtual reality education, such as the feeling of touching virtual objects, voice control, and the precise use of hands to perform complex tasks.
Students can also be taught how to deal with some aspects of their medical work, for example, they can add family members outside the operating room or make the patient face an emergency problem during the operation so that the student learns how to act in such situations that may happen in real life.
Companies like Oxford Medical Simulation offer such platforms globally, with scenarios covering general medicine, nursing, pediatrics, psychiatry, and community health education.
Also, the Japanese company Sony has a healthcare solutions section, which provides training service for students and health care professionals with virtual reality technology.
Cons of Using Virtual Reality in Medical Education
Certainly, there are difficulties facing the use of any new technology, and the adoption of virtual reality in medical education requires the support of faculty members and explaining how to use these technologies so that they can make good use of them in educating students and evaluating their level of education and the experience they have acquired.
In addition, many experts believe that virtual reality learning alone is not enough to make students able to practice their work on the ground.
Therefore, the adoption of virtual reality in medical education should not replace traditional education by educational institutions, and it must be viewed as just a technology.
New ones that help in education and reduce its costs, and provide certain conditions that cannot be provided through regular education.
With the development of virtual reality technologies and the development of the metaverse in healthcare, it is expected that the use of these technologies will expand in various fields of education, including medical education, as well as the education process as a whole in the future.