Snowballing burden of oral diseases and the aging population in Saudi Arabia, technological advancements in dentistry along with an inclination toward the use of minimally invasive procedures and artificial dentistry are propelling the growth.
A rise in General Awareness
Increasing general awareness about oral hygiene has been a major growth driver in recent years.
Also, increased knowledge along with the scientifically proven correlation between oral and medical health has made the population more aware of their oral health by helping them understand the consequences of neglecting oral health.
Initiatives by the Government
The government of KSA takes various initiatives to ensure proper oral health for the population. For instance, in 2019, Ministry of Health launched Mobile Dental Clinics to promote School Children's health.
There are Specialist Dental Centers run by the Ministry of Health as well. The Health Sector Transformation Program under Vision 2030 has taken various initiatives to improve the condition of healthcare in KSA; benefitting the dental services market as well.
Also, the government of KSA ensures the employment of the locals by policies that focus on the employment of Saudi citizens.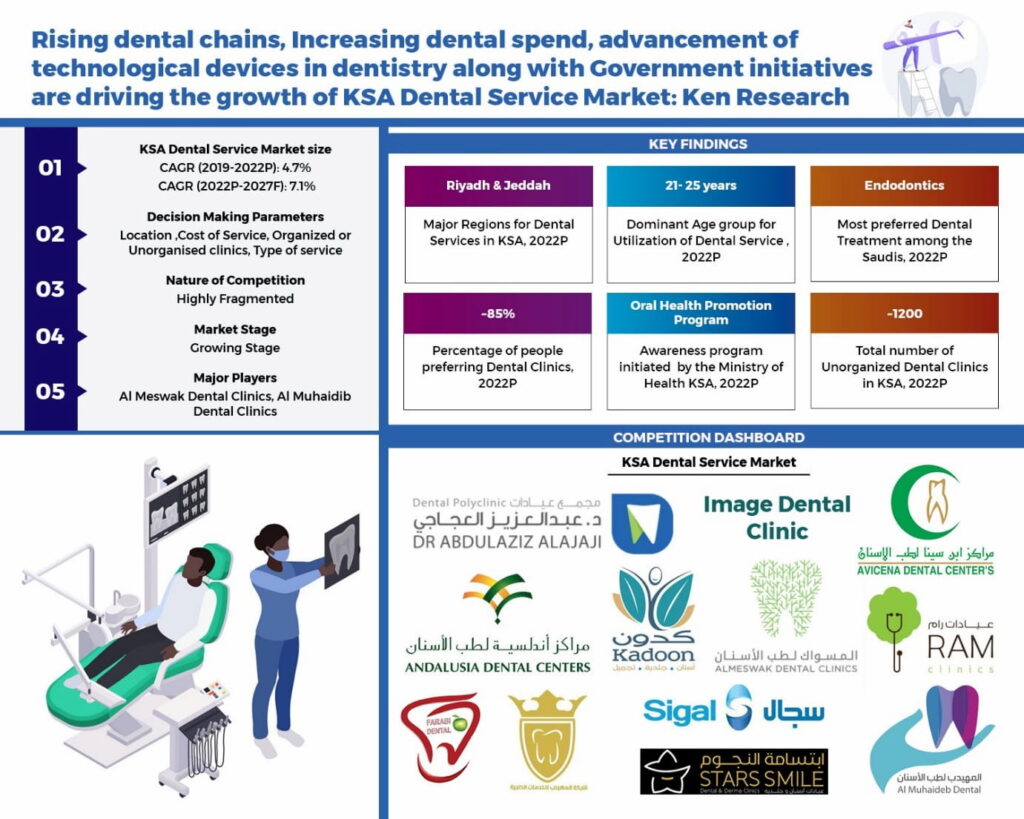 Use of Advance Technology
Various technological advancements in terms of Artificial Intelligence and Virtual reality have been a factor of growth in the market.
Also, the Internet of Dental Things offers a 'smart' dental health care strategy that has enormous promise in reaching out to patients in an increasing range of dental disciplines, including oral and maxillofacial pathology and surgery, prosthodontics and implant dentistry, periodontics, and oral public health.
Inequality and Low Dental Care Accessibility
One of the major challenges witnessed by KSA Dental Services is socioeconomic-related inequality and horizontal inequity in dental care utilization.
As per a survey conducted by Saudi Ministry of Health, the scarcity of dental health providers was highlighted in regions such as Jazan and others. However, these major challenges can be tackled with proper governance in the country.
Analysts at Ken Research in their latest publication "KSA Dental Services Market Outlook to 2027F- Driven by Rising Oral Health Awareness, Demand for Aesthetics among Saudi Arabians and Government Initiatives" by Ken Research observed that KSA Dental Service market is in the growing phase.
The Rise in General Awareness, Use of Advance Technological Dentistry Devices, Organisation of multiple Dental Chains, increasing spending power and Government Initiatives are some of the factors that have contributed to the KSA dental service market growth.
It is expected that KSA dental services market will grow at a CAGR of 14% for the 2022-2027F forecasted period.
Key Segments Covered
KSA Dental Service Market:
By Type of Services (by Revenue): 
Endodontics
Orthodontics
Implantology
Prosthodontics
Periodontics
By Institutions (by Revenue):
By Type of Dental Clinics (by Revenue):
By Revenue-Division (by Revenue):
Domestic Tourist
International Tourist
Get the Free Sample Report @ Kenresearch
By Cities (by Revenue):
Riyadh
Jeddah
Dammam
Al Khobar
Key Target Audience
Dental Service Providers
Dental Equipment Distributors
Dental Equipment Manufacturers
Dental Clinics
Hospitals
Healthcare Companies
Pharmaceutical Companies
Tourism Agencies
Government Bodies & Regulating Authorities
Time Period Captured in the Report:
Historical Period: 2018-2021
Base Year: 2022P
Forecast Period: 2022P– 2026F
Companies Covered:
AlMeswak Dental Clinics
ALMUHAIDB Dental Group
Safwat Al Muhaidib
Al-Farabi Dental and Orthodontic Company
Ram Clinics Group
Segal Dental
Kadoon Clinics
Star Smile
Image Dental Clinic
Dr. Abdulaziz Al Ajaji Dental Clinics
Avicena Dental Center
Cham Clinics
Andalusia Al-Sanabel and Prince Fawaz clinics
Sigal Dental Clinic
Key Topics Covered in the Report:
KSA Healthcare Overview
Ecosystem and Business cycle of KSA Dental Services Market
KSA Dental Services Market Size, 2019-2022P; and Segmentations, 2022P
End User Analysis of KSA Dental Services Market
Consumer Analysis of KSA Dental Services Market
SWOT Analysis of KSA Dental Services Market
Growth Drivers for KSA Dental Services Market
Trends Driving Adoption of Digital Innovation
Government Regulatory Bodies and Regulations of KSA Dental Services
Major Challenges Faced in the KSA Dental Care Market
Competition Analysis of KSA Dental Services Market
Cross Comparison of Major Players in KSA Dental Services Market (Year of Establishment, No of Dentist, No of Dental Chairs, No of Employees, Avg ticket Size in SAR, Estimated Revenue, Insurance Partners)
Cost Sheet of Major treatments and Price List of major Players
Covid-19 Impact on KSA Dental Services Market
Future Outlook & Projections of KSA Dental Services Market
Analyst Recommendations
For more information on the research report, refer to below link:
KSA Dental Services Market Outlook to 2027F: Ken Research
Related Reports:
India Dental Services Market Outlook to FY'2027F – Driven By Rising Dental Awareness, Dental Tourism, Lower Dental Services Cost and Government's Strong Initiatives in Healthcare System
Malaysia Dental Services Market Outlook to 2026F- Driven by Rising Dental Awareness, Cosmetic Dentistry, Government Policies and Increase in Disposable Income
Singapore Dental Services Market Outlook to 2026F– Driven by Rising Dental Awareness, Technological Upgradation and Government's Health Insurance Programs in Healthcare System