Focus on Rapid Urbanization, growing GDP, Ease of doing business, increasing healthcare budget and Improvement in quality of life are a major factor contributing towards the development of Clinical Laboratories Market in Philippines.
Poor Internet and lack of resources
The Philippines is a country with one of the slowest internet speeds in the world. Additionally, the cost of internet is also high in Philippines. A 2020 Digital Quality of Life Index ranked the Philippines 82nd in internet affordability out of 85 countries. 
And there is huge scope of development of health infrastructure. There are new technologies available globally that automates various procedures and increase the capacity of a laboratory. During Covid-19, a lot of patients couldn't be tested at the right time due to the dearth of covid testing kits.
Brain Drain and Lack of Affordability
Filipinos are well-educated and skilled but a lot of health workers migrate to other countries which leads to a dearth of health workers in the Philippines.
And Universal Health Policy is still a blank box for many people. Various healthcare tests are still costly for people who prefer to not get tested as the cost of getting examined is high and people can't afford it.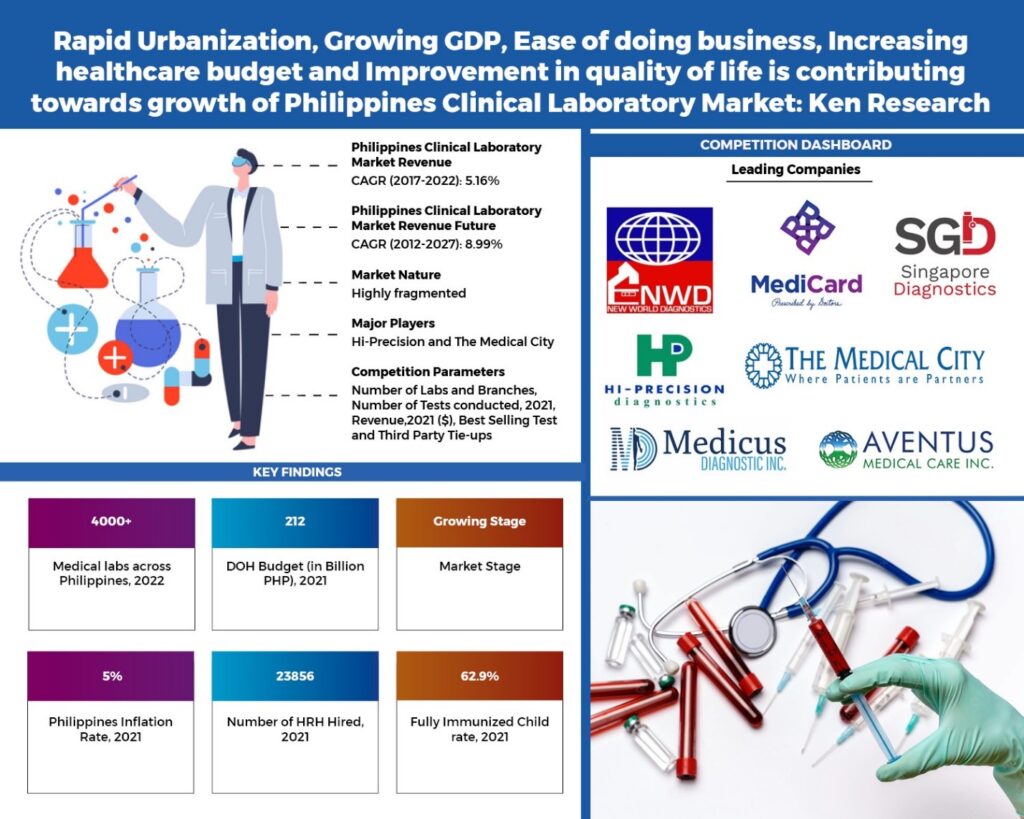 Request for Free Sample Report @ Kenresearch
E-Health and Technological Advancements
E-Health is emerging in the Philippines especially after the pandemic. More number of patients can be catered through online mode. It reduces paperwork, errors and makes it easier to create awareness.
And Healthcare industry in Philippines is gradually adopting advanced technologies to automate procedures and to diagnose and treat complex health issues.
Regulation of Health Professionals
The Philippines is known as one of the best suppliers of quality health workers who are highly skilled professionals. There are separate government bodies that are responsible for the training and professional development of health professionals.
The Commission on Higher Education (CHED) prescribes standards for quality health science education and the health science curriculum and regulates public and private higher education institutions in the country.
The Professional Regulation Commission (PRC) is responsible for promoting credible licensure examinations of health professionals and ensuring effective regulation of professional practice.
Analysts at Ken Research in their latest publication "Philippines Clinical Laboratory Market Outlook to 2027F- Driven by increasing awareness, widening customer base, digitalization and increasing corporate requirements for clinical testing" by Ken Research observed that the Clinical Laboratory market is an emergent healthcare market in Philippines at a growing stage from the economic crisis after the pandemic.
The rising government policies and demand for medical attention, health consciousness among the population along with government initiatives is expected to contribute to the market growth over the forecast period. The market is expected to grow at a 8.99% CAGR during 2022-2027F owing to the newer delivery models and new government policies.
Key Segments Covered in the report: –
Philippines Clinical Laboratories Market
By Ownership
By Structure-Revenue
Organized Labs
Unorganized Labs
By Payor- Independent Labs
Out of Pocket
Private Health Insurance
Government
By type of reference
Doctor Referrals
Walk-Ins
Corporate Clients
External Referrals
Online Referrals
By Number of Tests- Independent Labs
Ask for Customization @ https://www.kenresearch.com/ask-customization.php?Frmdetails=NTk2MTg4
By Institutional Character
Institutional
Non-Institutional
By Level of services
Primary
Secondary
Tertiary
Limited
Number of Labs- By Region
Region 1 (ILOCOS)
Region 2 (CAGAYAN VALLEY)
Region 3 (CENTRAL LUZON)
Region 4A (CALABARZON)
Region 4B (MIMAROPA)
Region 5 (BICOL)
Region 6 (WESTERN VISAYAS)
Region 7 (CENTRAL VISAYAS)
Region 8 (EASTERN VISAYAS)
Region 9 (ZAMBOANGA PENINSULA)
Region 10 (NORTHERN MINDANAO)
Region 11 (DAVAO)
Region 12 (SOCCSKSARGEN)
Region 13 (CARAGA)
NCR
CARR
BARMM
Key Target Audience
Clinic Service Providers
Clinic Equipment Distributors
Clinic Equipment Manufacturers
Clinics
Hospitals
Healthcare Companies
Pharmaceutical Companies
Tourism Agencies
Government Bodies & Regulating Authorities
Market Research and Consulting Firms
Time Period Captured in the Report:
Historical Period: 2017-2022P
Base Period: 2022P
Forecast Period: 2023F-2027F
Companies Covered:
Hi- Precision
The Medical City
Medicus Diagnostics
Singapore Diagnostics
New World Diagnostics
Medi card
Aventus Medical Care
Key Topics Covered in the Report
Pre-covid Health statistics of Philippines
Infectious Diseases in Philippines
Government Initiatives in Healthcare
Covid Impact and Responses
Cross Comparison of ASEAN Countries
WHO International Health Regulation capacity score: Laboratory
Categorization of Non-Hospital based Laboratories and number of units in Philippines
Evolution of Clinical Laboratory Industry
Ecosystem of Philippines Clinical Laboratory Market
Value Chain of Clinical Laboratory Industry
Market size of Philippines Clinical Laboratory Industry, 2017 – 2022
Market Segmentation, 2022P
Trends and Developments in Philippines Clinical Laboratory Market
Growth Drivers in Philippines Clinical Laboratory Market
Issues and Challenges in Laboratory Industry
Government Regulations in Laboratory Industry
Decision making Parameters of Customers
SWOT Analysis
Next Generation Laboratory Technology Trends
Competition Scenario of Philippines Clinical Laboratory Market
Market share of Major players
Future Outlook and Projections, 2022-2027E
Analyst Recommendations
For more insights on market intelligence, refer to the link below: –
Future Outlook of Philippines Clinical Laboratories Market
Related Reports BY Ken Research: –
Indonesia Clinical Laboratory Market Outlook to 2026F
Vietnam Clinical Laboratories Market Outlook to 2027F
---
Read Also