Driven by the rise in Healthcare Acquired Infections, an increasing number of wounds, burns, injuries, and accidents reported at healthcare facilities, the availability of advanced products, and rising awareness among patients and physicians about the benefits of good-quality medical tapes, the Global Medical Tapes Market is Forecasted to Reach Nearly $2 Bn by 2028, says Ken Research Study.
Medical tapes are meant for direct application on the skin in order to offer care in cases of wounds & injuries and surgeries & securement. Healthcare facilities of all types keep sufficient stock of medical tapes, keeping in mind their highly frequent and thorough use during the process of recovery. By product type, Medical Tapes may belong to the categories of adhesive tapes, elastic tapes, silicone tapes, paper tapes, and silk cloth tapes. A good quality medical-grade tape should offer moderate to high skin adhesion for comfortable medium to long-term wear. It must work efficiently under moist conditions while offering good breathability.
"Ken Research shares 3 key insights on this ~US$ 2 billion market from its latest research study"
1. Efforts Undertaken to Minimize Healthcare-Acquired Infections (HAI) are among the Key Factors Driving Growth in the Market
The Global Medical Tapes Market is expected to grow at a moderate pace over the forecast period. Good-quality medical tapes offer enhanced protection against Healthcare-Acquired Infections or HAI.
According to a report published in 2022 in the National Centre for Biotechnology Information website, each year, the top five HAIs result in around US$10 billion in costs. Moreover, these infections increase the length of stay, healthcare costs, and mortality of patients suffering from it. Single-use, individually packaged medical tapes prove effective in preventing the spread of these infections.
Moreover, the increasing number of wounds, injuries, burns, and accidents reported at healthcare facilities, and the availability of advanced, high-quality, medical-grade tapes fuel growth in this market.
The Global Medical Tapes Market was valued at ~US$1 billion in 2017. The market is estimated to have reached ~US$1.5 billion in 2022 and grow further to a size of ~US$2 billion by 2028.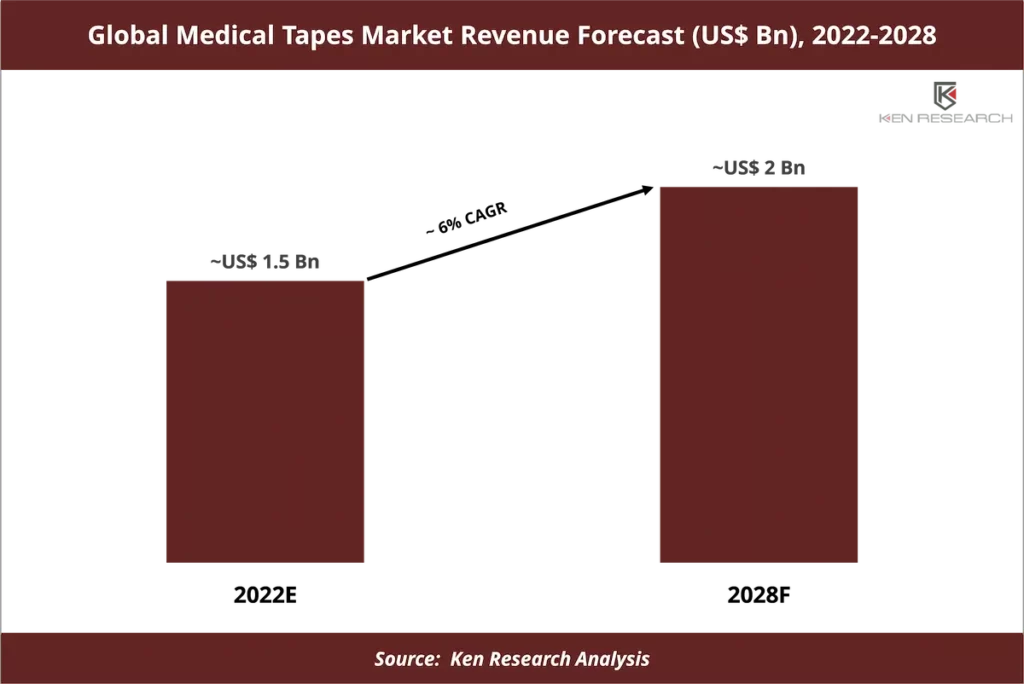 2. Strong Growth in the Number of Surgical Procedures Conducted Worldwide is Expected to Fuel Market Growth
Medical Tapes are an absolute necessity in a surgical site. Tapes are also used during the post-operative care, healing, and recovery period. The consistent growth in the number of surgical procedures conducted across the globe would boost the Market Of Medical Tapes.
According to the numbers quoted in a 2021 scientific study report published in the National Library of Medicine website, the global per capita need for surgical procedures was expected to go up to at least 5,000 per 100,000 population by 2030. The world had a global per capita surgical need of 4,664 per 100,000 population in 2010.
Given that the global population would also witness a significant increase during this interval, it is expected that the total number of surgical procedures would see a substantial rise in numbers and so would the volume of medical tapes required.
Request For Sample Report @ Kenresearch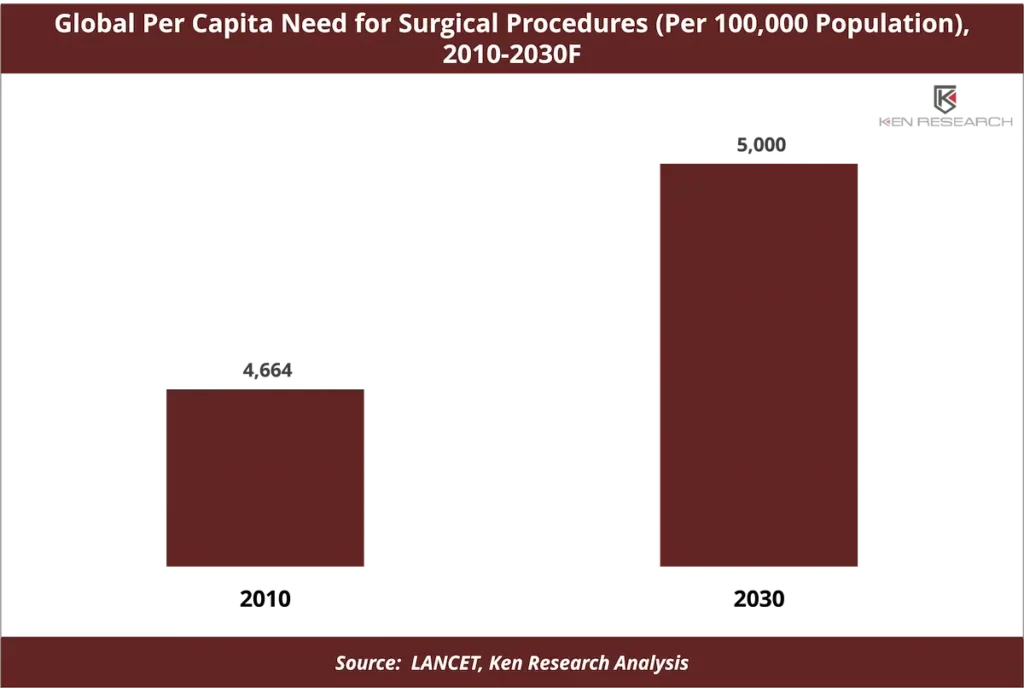 3.    Developing of Medical Adhesive-Related Skin Injuries (MARSI) is a Potential Roadblock in the Growth Trajectory of the Medical Tapes Market
According to a study published in 2021 in the International Journal of Environmental Research and Public Health, the incidence of Medical Adhesive Related Skin Injuries (MARSIs) in surgical areas was 36.4% among spinal surgery patients undergoing surgical wound dressing. Patients who were affected by MARSIs experienced conditions such as dermatitis, skin tear, skin-stripping, and tension injury or blisters. If proper protective measures are not adopted in a structural way, such incidents might lead to better replacements for medical tapes, contracting the scope of future growth of the market.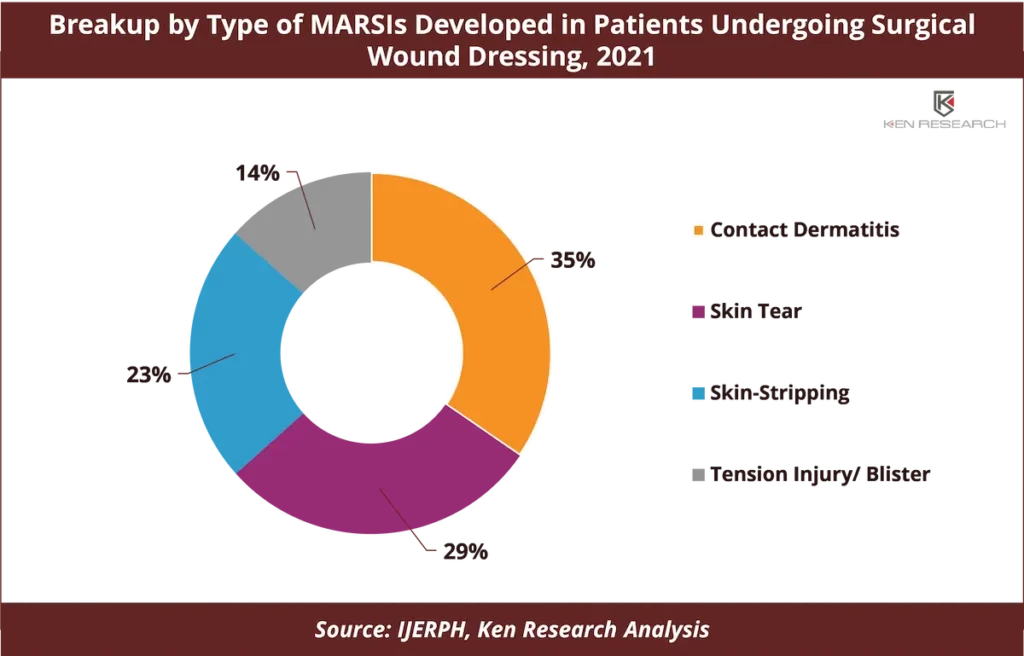 For more information on the research report, refer to the below link: Global Medical Tapes Market Size, Segments, Outlook, and Revenue Forecast 2022-2028: Ken Research