Rising General Dental Awareness
The general awareness regarding the oral health and the demand for public dental policies is proving to be an important factor for the rise in dental services market in Malaysia. Factors like better standards of living, changing economy have been a reason for growth in the market.
Increasing Demand For Laser Dentistry
Laser technology has a range of dental care applications and in some cases, can even replace the need for a traditional dental drill.
Studies have shown that lasers can reduce pain and speed post-op healing while reducing bleeding. Additionally, dental studies showed that diode lasers had a 100% reduction in long-term bacteria.
Tele dentistry goes Mainstream
Automated and digitally supported workflows allow doctors to increase the amount of time spent on care-related tasks. Lack of qualified personnel and pressure to optimize utilization will have a knock-on effect on adoption of digital solutions. However, tele-dentistry or telecommunication consultation with dentists is becoming one of the solutions to overcome problems related to access to dentists. According to the CDC, telehealth visits increased 154% in the first week of the pandemic. Not only can tele dentistry provide a substitute for in-person care, but it is also improving healthcare by increasing frequency and improving access.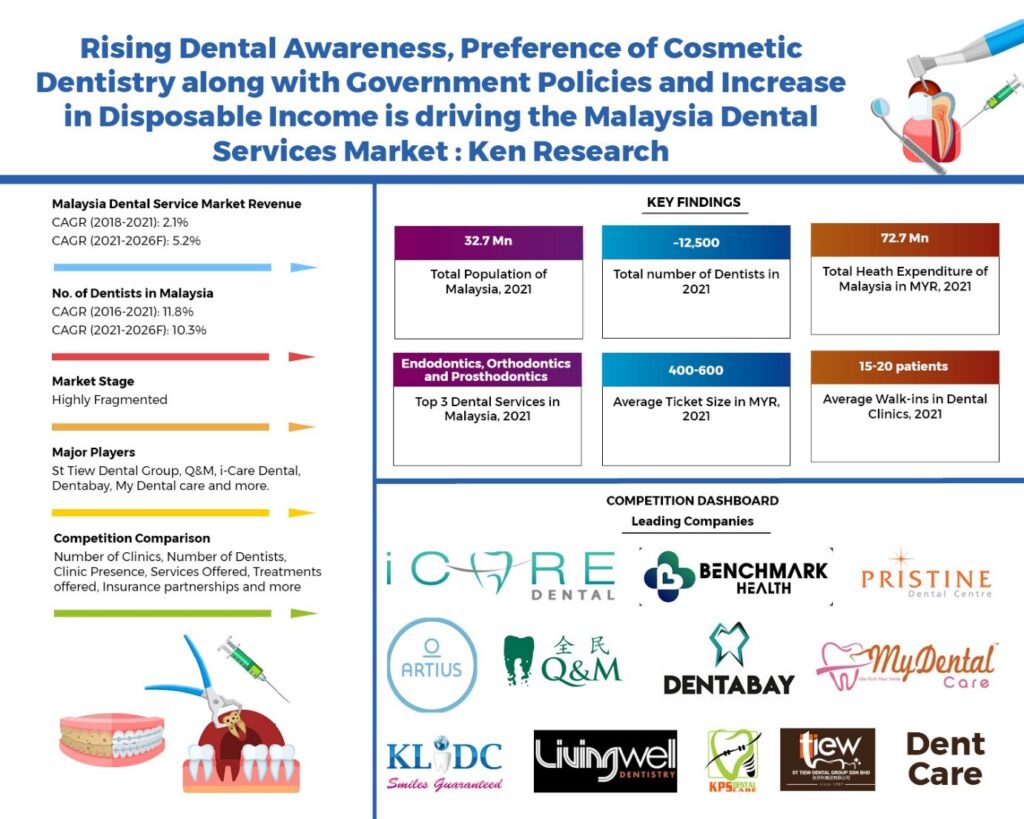 Technological Advancement
The Internet of Dental Things offers a 'smart' dental health care strategy that has enormous promise in reaching out to patients in an increasing range of dental disciplines, including oral and maxillofacial pathology and surgery, prosthodontics and implant dentistry, periodontics, and oral public health. It is also improving the preventive care process. Recent technological advancement results in solutions that provide better clinical outcomes, enable treatments previously deemed too complex or even impossible, are easy to use, saves time and seamlessly integrates with other digital solutions.
Analysts at Ken Research in their latest publication "Malaysia Dental Services Market Outlook to 2026F- Driven by Rising Dental Awareness, Cosmetic Dentistry, Government Policies and Increase in Disposable Income" by Ken Research observed that Dental Services market is an emergent healthcare market in Malaysia at a rebounding stage from the economic crisis after pandemic. The rising government policies and demand for cosmetic dentistry, dental consciousness among the population along with government initiatives is expected to contribute to the market growth over the forecast period. The market is expected to grow at a 5.4% CAGR during 2021-2026F owing to the rise in economy of the country, increasing consciousness towards looks and new government policies.
Key Segments Covered in the report
Malaysia Dental Services Market
By Type of Services
Endodontics
Orthodontics
Prosthodontics
Cosmetic Dentistry
Periodontics
Others
By End User
By Dental Clinics
Organized Clinics
Unorganized Clinics
By Revenue
International Revenue
Domestic Revenue
By Cities
Selangor
Kuala Lumpur
Johor
Penang
Other Malaysian Cities (Malacca, Kuantan, Ipoh, Kinabalu etc.)
Key Target Audience:-
Dental Clinics
Dental Equipment Manufacturers and Distributors
Dentists
Hospitals
Market Research and Consulting Firms
Healthcare Companies
Pharmaceutical Companies
Tourism Agencies
Government Bodies & Regulating Authorities
Request For Sample Report @ Kenresearch
Time Period Captured in the Report:-
Historical Period: 2018-2021
Forecast Period: 2021-2026F
Companies Covered:-
St Tiew Dental Group
Q&M Dental
i-Care Dental
Dentabay
My Dental Care
Syarifah Dental Clinic
Artius Dental
Benchmark Health
Pristine Dental Clinic
Dent Care
Klidc
Living Well Dentistry
Key Topics Covered in the Report:-
Malaysia Dental Services Market Overview
Malaysia Healthcare Overview
Ecosystem of Malaysia Dental Services Market
Business Cycle and Genesis of Malaysia Dental Services Market
End User Analysis of Malaysia Dental Services Market
Consumer Journey in Malaysia Dental Services Market
Consumer Pain Points in Malaysia Dental Services Market
Industry Analysis of Malaysia Dental Services Market
SWOT Analysis of Malaysia Dental Services Market
Key Growth Drivers in Dental Service Market in Malaysia
Major Challenges and Bottlenecks in Malaysia Dental Services Market
Regulatory Framework in Malaysia Dental Services Market
Competitive Landscape in in Malaysia Dental Services Market
Market Share of Major Dental Services Providers in Malaysia Dental Services Market
Detailed Analysis on Malaysia Dental Services Market (Market Size and Segmentation, 2016-2021; Future Market Size and Segmentation, 2021-2026F)
Market Opportunity and Analyst Recommendations
For more information on the research reports, refer to below link:-
Malaysia Dental Services Market
Related Reports:-
UAE Health Tech Market Outlook to 2026 – Driven by Increasing demand for Faster Delivery & Convenience and Shifting Customer behavior
Singapore Medical And Dental Clinics Market Outlook To 2022 – Led By Inorganic Expansion Of Major Clinics And Expansion Into More Specialized Services
UAE Health Tech Market Outlook to 2026 – Driven by Increasing demand for Faster Delivery & Convenience and Shifting Customer behavior
---
Read Also