The ecosystem of Thailand Dental Services Market
Thailand Dental Services Market is at a growing stage and has a highly fragmented market with MOS Dental as the market leader. The country has 200+ organized clinics and 5,000+ unorganized clinics. Thailand's dental services market is in the growth stage as there is moderate growth owing to rising independent dental clinic chains and dental tourism.
Key Findings
The Kingdom of Thailand wants to stimulate its economy by becoming an international hub for medical and dental treatment.
Cosmetic dentistry and implants are growing fields in the near future. This is because cosmetic dentistry is usually expensive but traveling to a dental hub like Thailand saves a lot of costs.
The government is also increasing insurance coverage for dental care services through their public health schemes which would further increase demand for dental services.
Rising Dental Services Market
The rising age of the population is gearing them towards better oral health practices as well as increasing their demand for dental treatments.
The dental services market is anticipated to witness significant growth over the forecast period due to the increasing accessibility, rising dental tourism and government initiatives.
A rise in the number of Dentists
The number of dentists is expected to rise in the coming years owing to the new opportunities in the dental services market. The increase in the overall population and dental tourism are considered to be the factor for these developments.  The total number of Dentists in Thailand was 17,738 in 2021 growing with expected CAGR of more than 9 % over the period 2021-2026F. By 2025, the Thai population per dentist is expected to be around 2,500 people.
New Government Policies
The government provides dental coverage in its national insurance schemes for simple procedures and has introduced initiatives to expand access and awareness.
The Thailand National Digital Healthcare Workforce Development Initiative (WDI) was officially launched to focus on the development of a three-year work plan to address the demand of patients for digital healthcare services in light of the Thailand 4.0 digitization journey.
Analysts at Ken Research in their latest publication "Thailand Dental Services Market Outlook to 2026F– Driven by Rising Dental Awareness, Dental Tourism, Lower Dental Services Cost and Government's Strong Initiatives in Healthcare System" by Ken Research observed that the Dental Services market is an emergent healthcare market in Thailand at a rebounding stage from the economic crisis after the pandemic.
The rising government policies and demand for cosmetic dentistry, dental consciousness among the population along with government initiatives is expected to contribute to the market growth over the forecast period. The market is expected to grow at a 7.1% CAGR during 2021-2026F owing to increasing accessibility, rising dental tourism and government initiatives.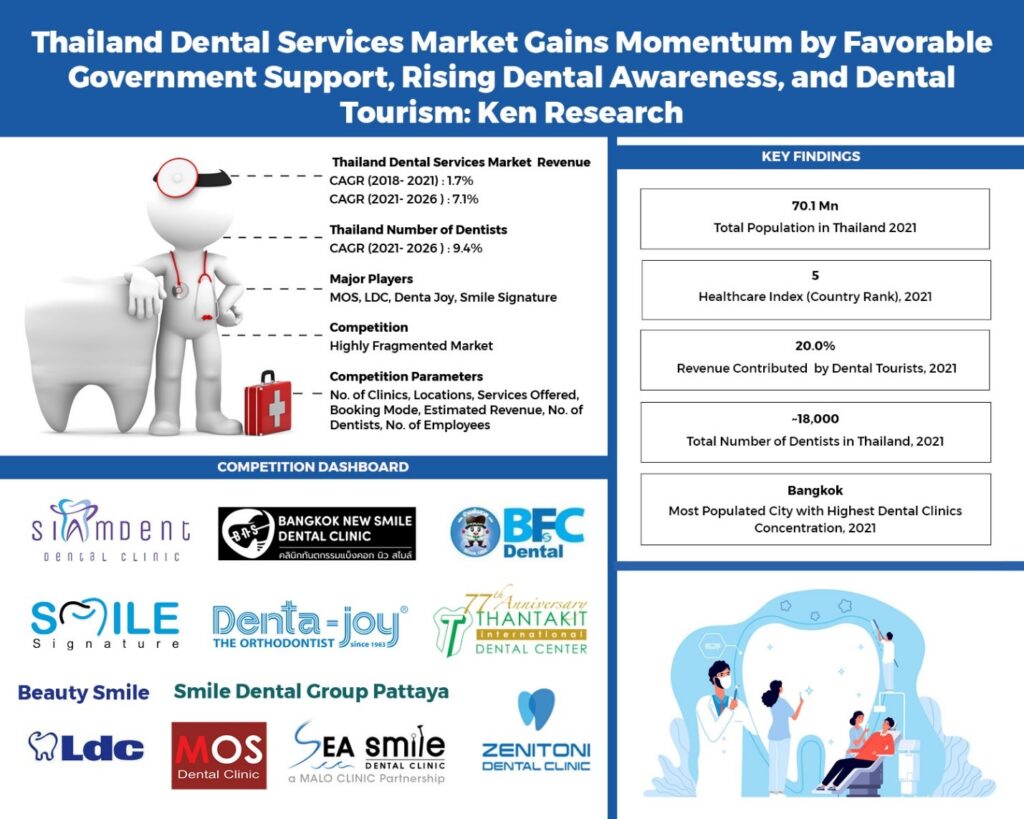 For more information, request a free sample
Key Segments Covered in the report
Malaysia Dental Services Market
By Type of Services
By Institutions
By Dental Clinics
By Revenue
By Cities
Key Target Audience
Dental Clinics
Dental Equipment Manufacturers and Distributors
Dentists
Hospitals
Market Research and Consulting Firms
Healthcare Companies
Pharmaceutical Companies
Tourism Agencies
Government Bodies & Regulating Authorities
Time Period Captured in the Report:
Historical Period: 2018-2021
Forecast Period: 2021-2026F
Companies Covered:
LDC Dental Clinic
MOS Dental Clinic
Delta Joy
Smile Signature
Thantakit
Siamdent
BFC Dental
Sea Smile
Beauty Smile
Bangkok New Smile
Thantakit International
Zenitoni
Smile Dental Group Pattaya
Key Topics Covered in the Report
Thailand Healthcare Overview
Thailand Dental Services Market Overview
Ecosystem, Business Cycle and Genesis of Thailand Dental Services Market
Thailand Dental Services Market Size by Revenue, 2018-2021
Thailand Dental Services Market Segmentation (By Type of Services, By End Users, By Dental Clinics, By Revenue Division, By Cities), 2021
End User Analysis of Thailand Dental Services Market
Industry Analysis of Thailand Dental Services Market
Key Growth Drivers in Dental Service Market in Thailand
Trends Driving Adoption of Digital Innovation
Major Challenges and Bottlenecks in Thailand Dental Services Market
Regulatory Framework in Thailand Dental Services Market
Competition Framework for Thailand Dental Services Market
Market Share of Major Dental Services Providers in Thailand Dental Services Market
Cost Sheet of Major treatments and Price List of major Players
Impact of Covid-19 on Thailand Dental Care Market
Future Outlook and Projections of the Industry, 2026F
Market Opportunities and Analyst Recommendations
For More Information on the research report, refer to below link: –
Thailand Dental Services Market
Related Reports by Ken Research: –
Saudi Arabia Dental Care Market
Singapore Medical and Dental Clinics Market Outlook to 2022
UAE Health Tech Market Outlook to 2026
---
Read Also