An Independent publication issued with love on the 1st and 15th of every month
May 15th, 2021
It's both a joyous holiday and a week of mourning in the Middle East. As the Muslim world celebrates Eid Al Fitr, we are reminded of the amount of pain and turmoil that occupy the holiest of places in the region. 
As global healthcare professionals and community builders, passionate about connecting MENA to the world, we try to be generally optimistic about digital health in the region.
The escalating crisis continues to put human lives at risk and devastating health impacts, we hope that digital health could provide means to support the affected survivors.Read more on PubMed.
So, if you are working on a solution that is of benefit in humanitarian settings let us know! If you are intrigued to learn more about this you can also enroll in this course.
Still, we continue to imagine with all of you what the future holds for health in the Middle East, and we continue to find the most incredible entrepreneurs who -with your help out there- can bring change and dignity to every human being in the region. 
In this edition below, you will find:
Our Insights: We look at the top 32 funded startups in the region. UAE and Turkey lead the way. 
Opportunities: MedLabs Accelerator, launched by the Global Healthcare Innovation Fund, is looking for startups for its Q2 accelerator program. Don't miss HIMSS Europe on June 7th and look for flights to Malta for MedTech World in November. 
Featured Startup: Curotrip, originally built for medical tourism, pivots into virtual primary care and referral system. They are looking for the right investors for their Seed Fund.
Chapter Leaders Debate: Catch our 10 min mini-debate about how each of us would invest $100M in the region's digital health startups.
Top Picks: Matthew Holt and Catalyst Health Survey Digital Health Startups, Acquisitions in Remote Patient Monitoring as well as AI initiatives from Saudia Arabia.
Keep scrolling down to get all the good stuff! We want to keep bringing you better and more relevant content so we appreciate any donations to help us keep improving this service.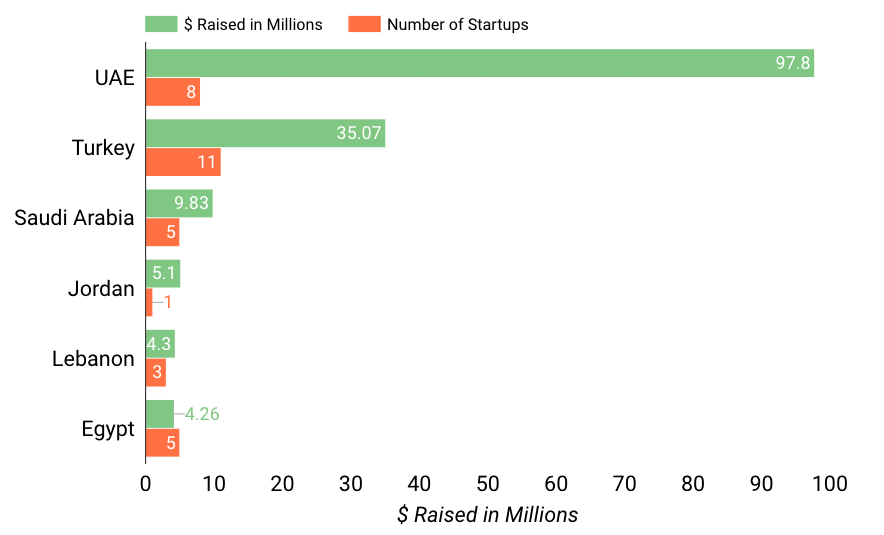 We have designed these charts based on what we've tracked and crunchbase, if you see something we have missed, please reply to this email and let us know! 
In the last two editions, we featured the top 10 GCC-based funds and the top 10 funded startups in the GCC and Turkey. 
For this edition, we have been looking at the top 32 funded startups in MENA* according to more data from CrunchBase. 19 of those startups were in the UAE and Turkey alone. 
UAE continues to lead with funding. Vezeeta ,Okadoc, and Altibbi being HQed there contributing to its lion's share.
Turkey is crushing it, with companies like Smart Alpha and Ceiba leading the way. Medical technology company TSO3 has already gone IPO as well. 
With a large acquisition of RPM company (see articles below), and strong AI government focus, SA comes in at #3 with 5 of the top-funded startups and $9.83M that has gone into it. Natfuia leads the way.
Jordan based Palestinian company Webteb is keeping the country on the list with $5.1 M on its own.
We were pleasantly surprised to see Lebanon on the list with Sohati health education app making strides, as well as Basma and Diabetes Spike Assistant rising stars.
Our beloved Egypt continues to be with roaring human capital and talent that is underfunded.  Rology, Chefaa, Shezlong, and Yodawy are all proving how this country is full of raw talent, and we hope to see them finding more uptake and growth! 

Q2 Applications for the Global MEDLabs Accelerator Are Open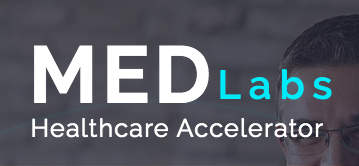 Each team receives mentorship, workshops, co-working space, and becomes a part of the huge network of Medlabs mentors, investors, healthcare entrepreneurs, global corporate partners. $100,000 funding (provided by Global Health Impact Fund) will be provided to the most promising company presented on the demo day. APPLY
---
European Health Conference HIMSS/HEALTH 2.0 [June 7-9]
Med-Tech World in Malta [Nov 18-19]
---
Doctors Ahmed Assaker and Ismail Anwar are on a mission to help Egyptians find virtual care and help specialists get the most relevant referrals.
In the video below, Omar Shaker interviews Ismail Anwar. Click to watch in Arabic.
Key Takeaways:
Curotrip started off as a medical tourism app with twenty doctors and helped a growing number of patients find their healing journey in Egypt. 
 They had to pivot with the closure of airports, so they started doing videos to educate people about Covid and reached millions of people
They realized that people in Egypt may actually need even more and that there is a need for a primary concierge virtual care service in Egypt. 
 They are looking for the right investors to raise a seed fund of $150k. They raised a pre-seed from Egypt's biggest accelerator Flat6Labs, and they are would also lead the seed stage.
Today's Video
Chapter Leaders Omar Shaker, Yara Abo El Waffa and Omar Zaki get in the investor seat and wonder how they would invest $100M on startups in the region. Reply to this email or leave comments on the video and let us know what you think!
Be sure to subscribe to our youtube channel to be notified when we post new videos! 
---
Articles Worth Reading
---
Enjoyed This? Share The Love!
Copyright © 2021 Health 2.0 | Egypt, All rights reserved.