Vincenzo Ventricelli, CEO of Philips Middle East, Turkey and Africa, talks about the prospects for telemedicine and virtual healthcare in light of new transformations in the healthcare sector
What Are the Most Important Trends and Technological Developments in Treatment Systems in the Healthcare Industry?
The COVID-19 pandemic has pushed the world to focus on the benefits of virtual care, highlighting its value as a scalable enabler that enhances the possibility of providing high-quality healthcare in resource-limited environments and conditions, which has increased the need to develop a more flexible and comprehensive healthcare system.
Societies all over the world are quickly adopting virtual healthcare and collaboration as a safe and convenient alternative to traditional ways of providing patient care.
The current adoption of connected care services is one of the essential steps that contribute to building the desired future of the health sector.
This means developing patient-centered healthcare infrastructure, with a focus on the continuity of healthcare provision, from a healthy lifestyle and disease prevention to critical hospital care and home care for chronic diseases.
Most importantly, ensuring the role of telehealth in providing specialists with access to key patient data so that they can collaborate with each other no matter where they are located.

It should be noted that telehealth contributes to enhancing the opportunities available to provide high-quality healthcare when needed, by utilizing the full potential of digital healthcare transformation efforts and virtual collaboration.
Personalizing care is also a prominent trend. The issue is not only about placing patients at the center of the care process, but also about customizing the type of care provided to suit each individual patient.
Providing a comprehensive overview of the genetic and phenotypic characteristics of the patient in parallel with providing the specialized teams with the necessary capabilities to make decisions with efficiency, coordination, and accuracy through the provision of specialized clinical instructions.
For its part, AI in healthcare is considered one of the positive aspects of development, as it provides a set of advantages, including its role as a platform for developing systems and solutions capable of sensing, analyzing, acting, and adapting to help perform complex and repetitive tasks.
In addition, merging AI with in-depth clinical and specialist knowledge can transform data into actionable insights that support decision-making.
Examples include early warning systems that alert patients to deteriorating conditions and allow for early intervention and treatment.
Over the years, we at Philips have developed the concept of Connected Care, which has strengthened our ability to help our partners during the global health crisis.
This concept requires the development of a set of integrated systems and strong partnerships to support the seamless flow of data and analytics between care providers in various settings. And the COVID-19 pandemic over the past year has made this need visible to clients, caregivers, and their patients faster than ever.
In light of the new reality we live in, there is a need to move the system as a whole towards a new phase of value-based healthcare, i.e. shifting the concept of care delivery from focusing on the number of patients to focusing on the quality of care provided to them, as well as reformulating financial incentives to provide better results for patients.
Realizing the potential of connected care through an increased focus on the benefits of telehealth in acute and preventive care settings; Giving priority to healthcare in general rather than care in periods of illness, given the overlap between the care sector and the consumer sectors.
On the other hand, the COVID-19 crisis has highlighted the need for sustainable and seamless solutions.
You must be confident that you can continue to provide care even in the event of any disruptions in the supply chain.
Philips has developed the Philips BlueSeal Magnet, the industry's first 1.5 Tesla MRI, in an effort to eliminate any potential concerns about helium-related problems often associated with conventional device designs.
If you are looking for completely organic supplements for better health, check omni health supplements.
Through this move, the company aims to support the continuity of magnetic resonance imaging services and eliminate the need to rely on scarce supplies of helium in order to provide essential healthcare services during and after the COVID-19 pandemic.
At Philips, we believe that the future of the healthcare sector revolves around providing maximum opportunities for technological development, so that value-based care becomes a reality we live every day; This reflects the need to invest in the benefits of telehealth and increase access to specialized healthcare providers in short supply, and to ensure close collaboration between them.
What Are the Most Successful Areas of Telemedicine?
Philips telehealth solutions and capabilities enable customers to expand access to care in terms of where, when and how, so that location is not an obstacle to a patient's access to appropriate care.
By relying on accurate data-driven analytics, virtual care plays a pivotal role in improving efficiency while maintaining quality of care, improving employee allocation policies and enhancing productivity.
Remote intensive care units, such as the Philips Electronic Intensive Care Unit, allow clinicians to interact with staff in patient rooms and consult individual care avenues even while physicians are off-site, enabling only one specialized central team to manage a large number of care units remote centering in various locations, as well as the real-time electronic exchange of health information.
This complements, not replaces, the work of the patient care team by providing additional support to dwindling clinical resources.
The collaboration between Philips Lumify and Reacts, the first integrated solution for remote ultrasound planning, connects professionals, places, and patients to make a difference.
The solution, which is very important in the field of collaboration and caregiving, provides the opportunity for direct contact in order to obtain better levels of support and joint and fruitful efforts, at the point of care delivery and at the time when it is needed.
According to doctors working on the front lines, Philips Lumify's in-care site ultrasound planning solution has become one of the key tools in the global effort to mitigate the COVID-19 crisis.
The award-winning tablet-based ultrasound planning solution has helped clinicians in emergency departments and intensive care units make faster and more accurate decisions during the COVID-19 pandemic, as well as reduce the risk of the virus spreading within their departments.
What's New in the Company's Electronic Intensive Care Unit Systems?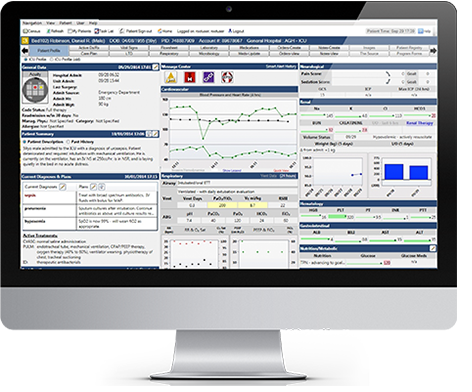 The Philips Electronic Intensive Care Unit (EICU) software is a revolutionary healthcare program centered around the remote intensive care unit, combining audiovisual technology solutions, predictive analytics, data visualization, and advanced reporting capabilities, provided by Philips experts with a proven track record of success.
More than 15 years. Over the past 15 years, the electronic intensive care unit program from Philips has succeeded in monitoring more than 4.25 million hospitalizations.
It is easier today than ever to ensure that a remote ICU can add value and reduce potential costs; However, we still have a long and seemingly challenging journey ahead of its adoption.
In the past, remote intensive care units required a large amount of initial investment. However, the available model today has become accessible to all hospitals of all sizes, operational and technical capabilities, and their available resources for employment in intensive care Units.
Recognizing this point, we are introducing the Philips Electronic Intensive Care Unit Awareness Program with the aim of connecting smaller organizations to telehealth services operated by electronic ICU programs in larger facilities.
We are also helping to establish a partnership with a facility that uses the Philips Electronic Intensive Care Unit program so that smaller organizations can provide needed monitoring of their critical care patients and benefit from the benefits of the program by making the minimum investment possible.
Through strategic partnerships, medical and administrative teams can mobilize or supplement all their existing capabilities in order to implement a remote intensive care program and achieve a financial sustainability option that contributes to improving the outcomes of intensive care units.
What Are the Levels and Scope of Use of the Spectral CT7500?
During our participation in the Arab Health Conference and Exhibition 2021, we will reveal our plans to launch the Spectral CT7500 device, which is designed to achieve the correct diagnosis the first time, provide 100% accurate spectroscopic results and simplify the workflow, allowing each imaging process to provide traditional and spectroscopic results at the same time.
It saves about 34% of the time needed for diagnosis, reduces by 25% the need for repeat imaging, and 30% of cases of follow-up imaging, and this comes within the framework of providing courses of action that can provide the best results.
The CT7500 provides services to a wider range of patients and enhances the capabilities available in cardiology and emergency departments, as well as opening the door to new horizons in surgical radiological procedures for the treatment of tumors.
What Are the Challenges of Integrating AI With Existing Health Systems?
The integration of emerging technologies into actual applications is one of the most important challenges facing efforts to integrate artificial intelligence technology with current health systems.
AI undoubtedly offers a huge opportunity to improve the healthcare sector, especially given its huge potential.
But in order to successfully harness this potential, it must be made an integral part of clinical teams' workflow and patients' daily routines.
In turn, AI engineers and developers must ensure that their systems keep pace with workflows, especially since health care professionals work on a very small timescale, which means that designing an AI system as a separate application requires adding more clinical steps. circles of doctors.
Artificial intelligence systems must be supported by tools that allow them to integrate with various data and information technology systems. Interoperability is one of the key factors for getting accurate and meaningful analytics from data using AI technology.
In order to optimize the use of AI, Philips combines the ability to detect patterns in large volumes of data with in-depth clinical and specialist knowledge to develop AI-powered solutions that are able to:
Empowering the people who use it
Complete seamlessly with people's workflows or everyday environment
Adapting to their context